7 tips to increase the resale value of a property
by Multi-Prêts Mortgages
What you'll learn
Paint the interior walls
Update the flooring
Repair or replace windows
Modernize the exterior
Renovate the bathroom
Add storage space
Refresh the kitchen
Buy to renovate, or "flip"
Thinking of selling your property soon? Before you put up that "for sale" sign, you may want to spruce up your home a little, especially if you've been living there for a while. Renovations can increase the resale value of a house or condo—as long as you focus on the right elements and do them well!
Paint the interior walls
There's nothing better than a fresh coat of paint to brighten up a home! And since it's pretty affordable and easy to do, painting can get you a return on investment of up to 100 percent.
Opt for neutral colours like white or grey when painting the walls of your house or condo. You may love pink or yellow, but avoid shades that are too bright: they lack a modern feel and may actually make your rooms look darker.
If you do the work yourself, be particularly careful when cutting in. Paint splotches on the ceiling or floor will make your property look neglected.
Update the flooring
Are your floors still covered in shag carpeting? It's time to have it professionally removed. Not only does carpeting lower resale value, it's also a known allergen and dust collector, which can be a big turnoff for families with young children.
Replace that carpeting with maple or bamboo hardwood in the living and dining room, and with ceramic tiles in the kitchen and bathroom. You may be tempted to install floating floors to save on costs, but they won't increase the resale value in most cases.
Do you already have hardwood floors? Sanding them down may be all you need to restore them to their former glory.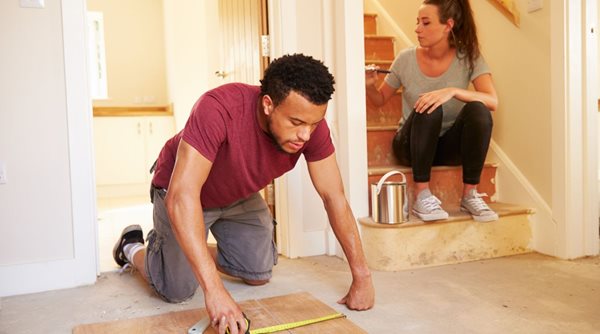 Repair or replace windows
They're often overlooked during renovation work, but repairing or replacing windows will usually deliver a 50 to 75 percent return on investment. When choosing between two similar properties, buyers will pick the one with impeccable windows.
New or well-maintained windows lower electricity costs, refresh the exterior of the property, and make life easier for the occupants.
Windows typically have a life span of 15 to 25 years. If your windows fog up, let air in, or are difficult to open or close, it's time to get them repaired.
Are repairs impossible or too expensive? Think about replacing the windows before putting your home up for sale. Windows that are in bad shape will decrease the value of your property.
To showcase your windows and bring in as much light as possible, get rid of unnecessary curtains or shades. Opt for a light window covering instead.
Modernize the exterior
If you want to encourage people to visit your property, the exterior needs to be flawless. Changing exterior siding can be a good solution, but it may cost you quite a bit of money.
Is the siding aluminum or vinyl? If it isn't damaged, you may be able to paint it with a product specifically designed to cover siding. Choose a modern hue while avoiding anything too eccentric.
While you're at it, give the patio, fence, and shutters a few coats of paint. If the front door is in good condition, you can repaint that too. If it's in poor condition, you're better off replacing it.
Since painting the exterior is trickier than painting the interior, you're better off leaving this job to a professional.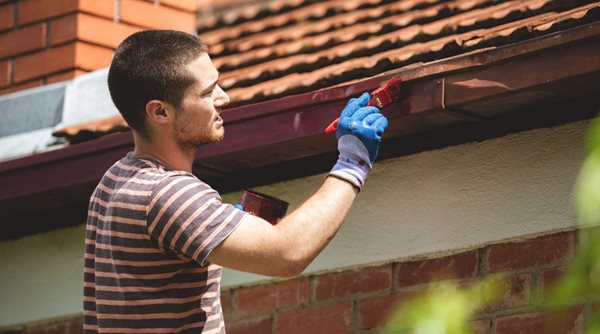 Renovate the bathroom
An outdated bathroom can lower resale value by thousands of dollars. Before putting your house up for sale, make sure this room is functional and modern.
If you have $7,000 to $10,000 to work with, you can completely renovate the bathroom, as long as you don't choose luxury materials. Replace the old bath with a freestanding tub and separate shower, for example. If your toilet is acting up, replace it with a newer model.
Working with a tight budget? Focus on the faucets, lighting, handles, and countertops. Sometimes, making these small changes can really update a bathroom.
Add storage space
Buyers are often looking for more storage space. Before you put your house on the market, make sure that your closets are functional. If you've got a room without any storage, create some yourself!
If you can't add closets or don't have the budget, make savvy furniture choices, such as a wardrobe that's the same height as your walls.
Refresh the kitchen
A modern kitchen will help your property stand out from the competition. With $15,000 to $25,000, you can renovate your kitchen from top to bottom. That may sound pricey, but kitchens are one of the most profitable renovations you can do. You'll get anywhere from 75 to 100 percent back on your investment.
If you have a tighter budget, focus on the most important elements: the sink, faucets, lighting, counters, and backsplash. Some companies will also offer to paint or reface existing cabinetry, which is a great way to revamp them at little cost.
Buy to renovate, or "flip"
If you aren't afraid to roll up your sleeves, why not buy your next property and renovate it? You'll save money on the purchase price and probably make a profit when you sell.
Depending on your budget, you may be able to add all or part of the renovation costs to your mortgage. Monthly payments will be higher, but you'll amortize the repayment over several years. You'll also get a better interest rate than if you'd financed the work with your credit card or a personal loan.
Don't hesitate to talk to your mortgage broker about your purchase and renovation plans. They'll be happy to help you.
Key takeaways
Switching out faucets and lighting may be all you need to refresh a bathroom or kitchen.
Painting is one of the simplest and most inexpensive solutions for increasing the resale value of a property.
Talk to your mortgage broker if you want to buy a property and renovate it.
Share
1
7 tips to increase the resale value of a property
https://www.multi-prets.com/en/knowledge-center/7-tips-to-increase-the-resale-value-of-a-property/
en
https://www.multi-prets.com/en/
Multi-Prêts Mortgages
serviceclientelecdp@multi-prets.ca
1-800-798-7738
https://www.multi-prets.com/wp-content/themes/mph/images/logo_en.svg
https://www.facebook.com/Multipretshypotheques/
https://www.linkedin.com/company/multi-prets-hypotheques-mortgage-/
https://twitter.com/MultiPrets