Choosing the ideal countertop for your kitchen
by Multi-Prêts Mortgages
What you'll learn
Laminate countertops
Granite countertops
Massive wood countertops
Quartz countertops
Marble countertops
It's well known that an impressive kitchen is one of your best sales arguments when selling a property. According to the Appraisal Institute of Canada, renovating your kitchen can yield a 75% to 100% return on investment.
To find out more, read our article, "Is it worth renovating before selling?"
Of course, modern appliances and sparkling faucets are immediate eye-catchers. But the choice of countertops for the kitchen remains just as important to charm the buyers.
Here are the advantages, inconveniences and maintenance details for the most sought-after countertops in interior design.
You might also be interested in our eco-friendly tips and tricks for spring cleaning.
Laminate countertops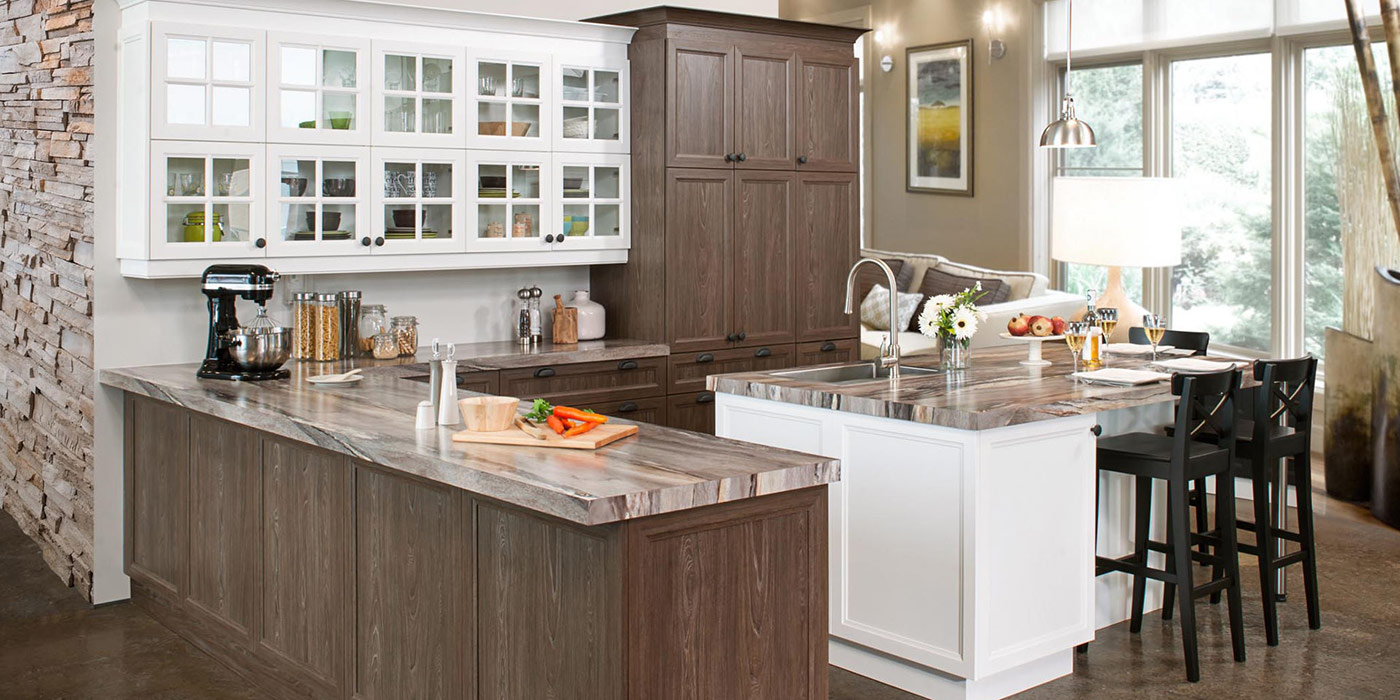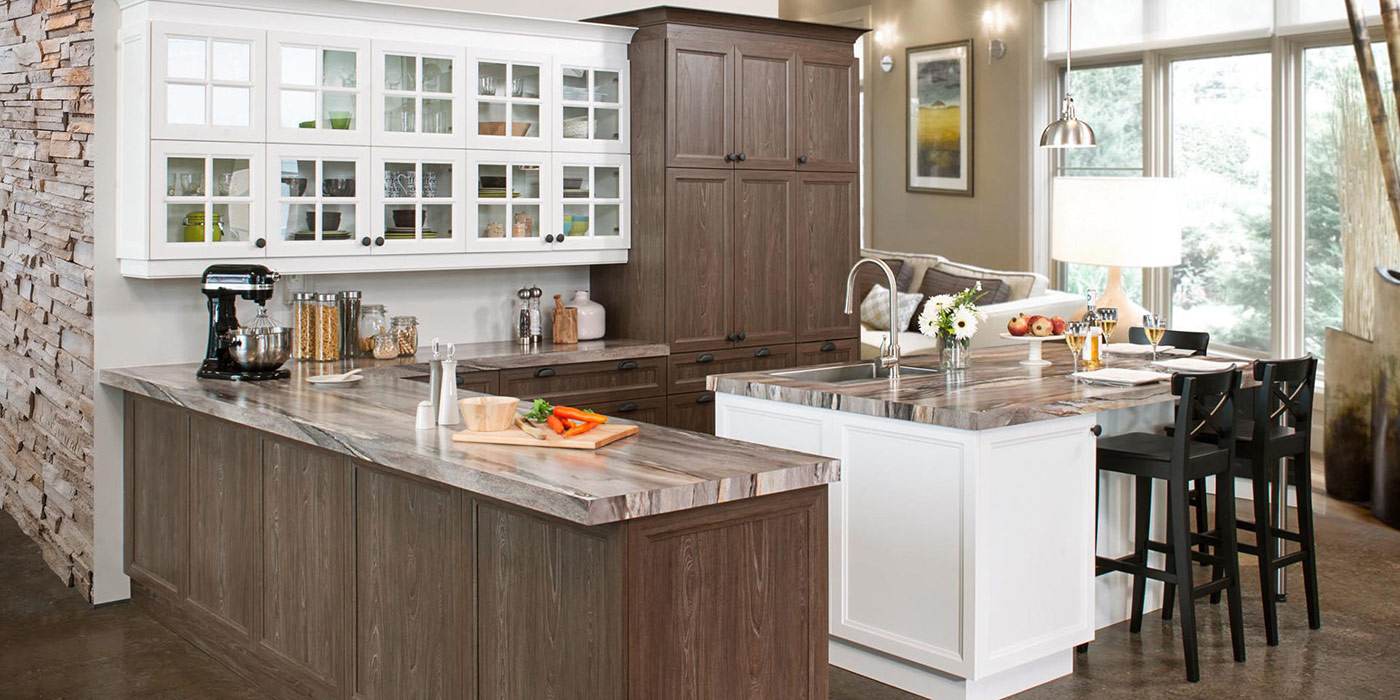 Photo credit : Cuisines Action
Advantages
Laminate offers different finishes that imitate marble, quartz and wood, for a fraction of the price. It's available in a wide variety of colours and patterns to fit your decor.
Installation is quick and inexpensive.
Resistant to shocks and scrapes, laminate has a lasting quality.
Inconveniences
Visually, the effect of a laminate countertop is less luxurious. Even when carefully applied, the joints remain apparent.
Laminate is sensitive to heat. It's therefore important never to place hot pots directly onto it, as damaged surfaces are hard to repair.
Maintenance
Use low-abrasive cleaning product.
Granite countertops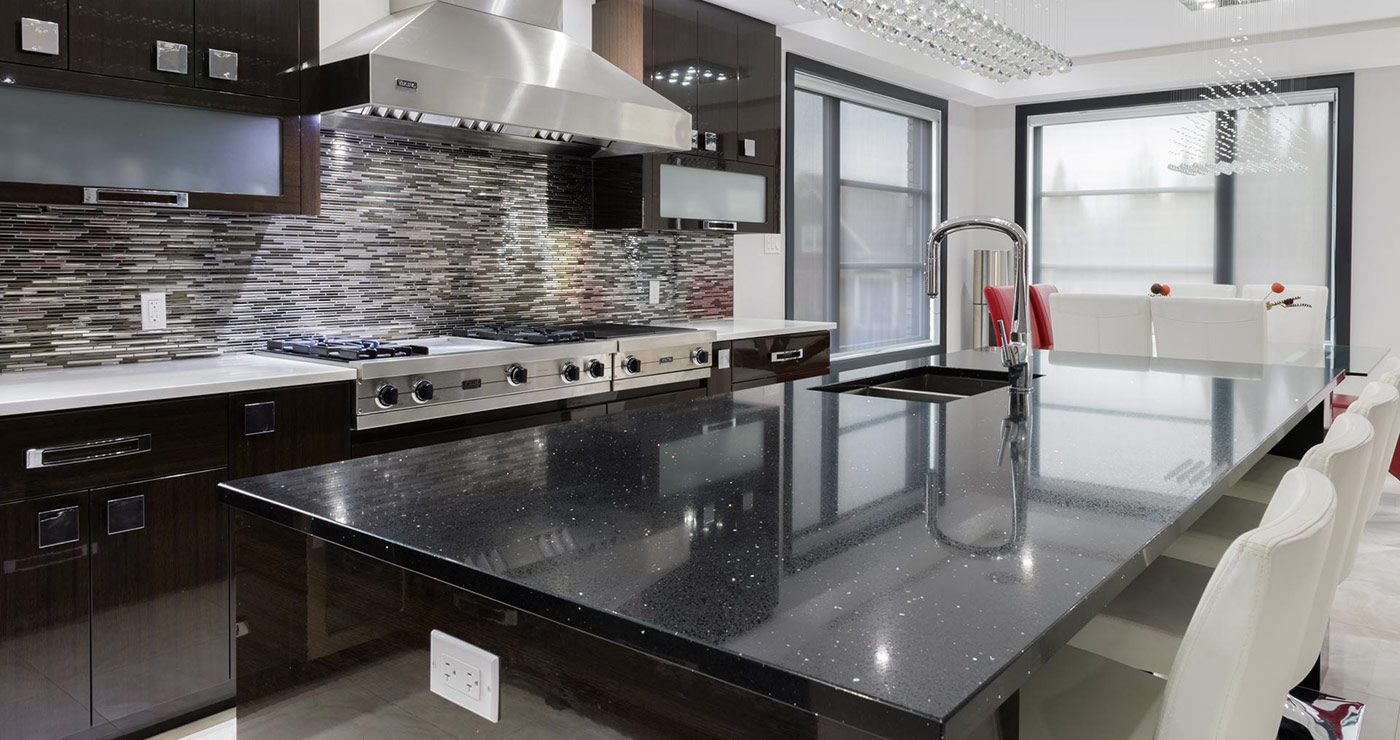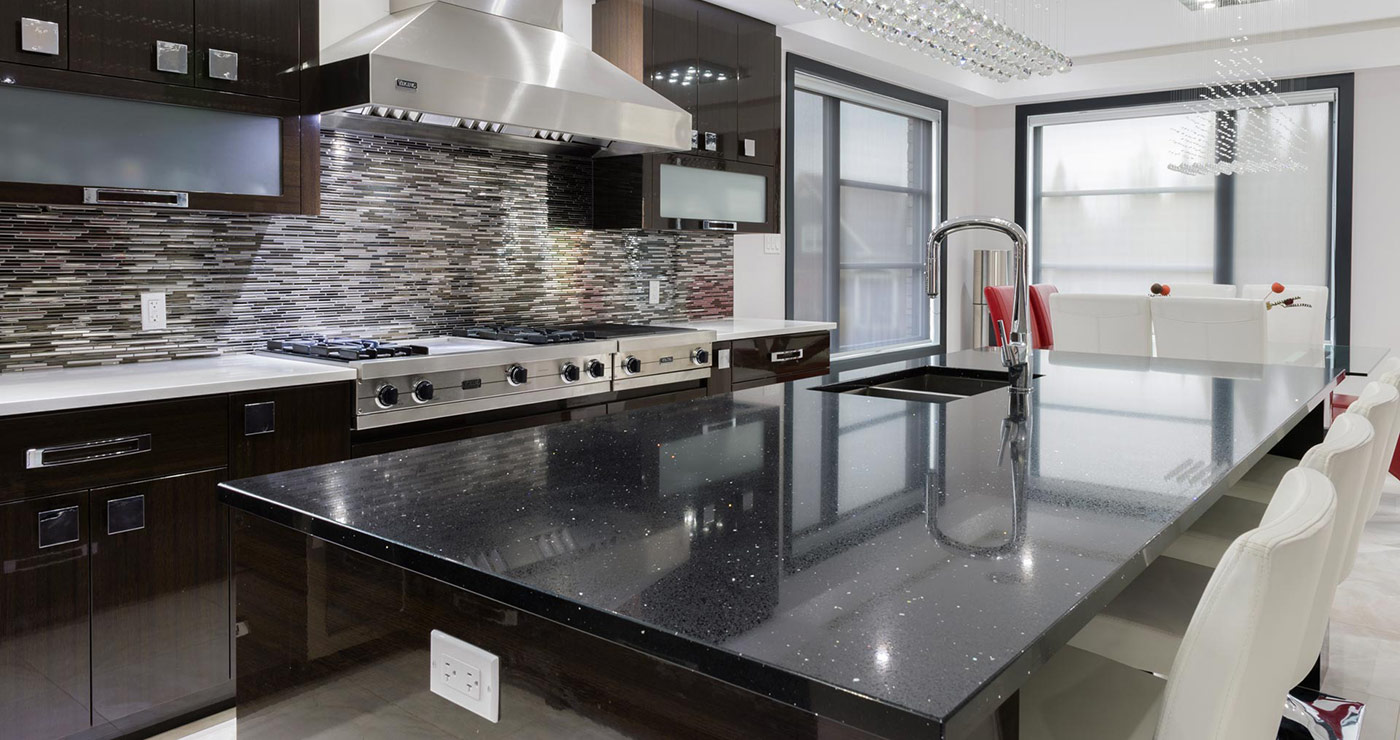 Photo credit : National Granit
Advantages
Granite is a natural stone that adds character.
It resists very well to heat, scratches and stains.
It is sold in matte, polished and antique versions, and exists in many colours. You'll inevitably find colour variations on sheets from the same slab.
Its life expectancy is exceptional.
Inconveniences
Its eccentric look does not necessarily suit every style.
It's more expensive than laminate.
Granite must be treated with a sealer every year, which means extra costs.
Maintenance
Avoid dulling the stone's shine by using a low-abrasive solution. For deep stains, use a product made especially for granite.
Massive wood countertops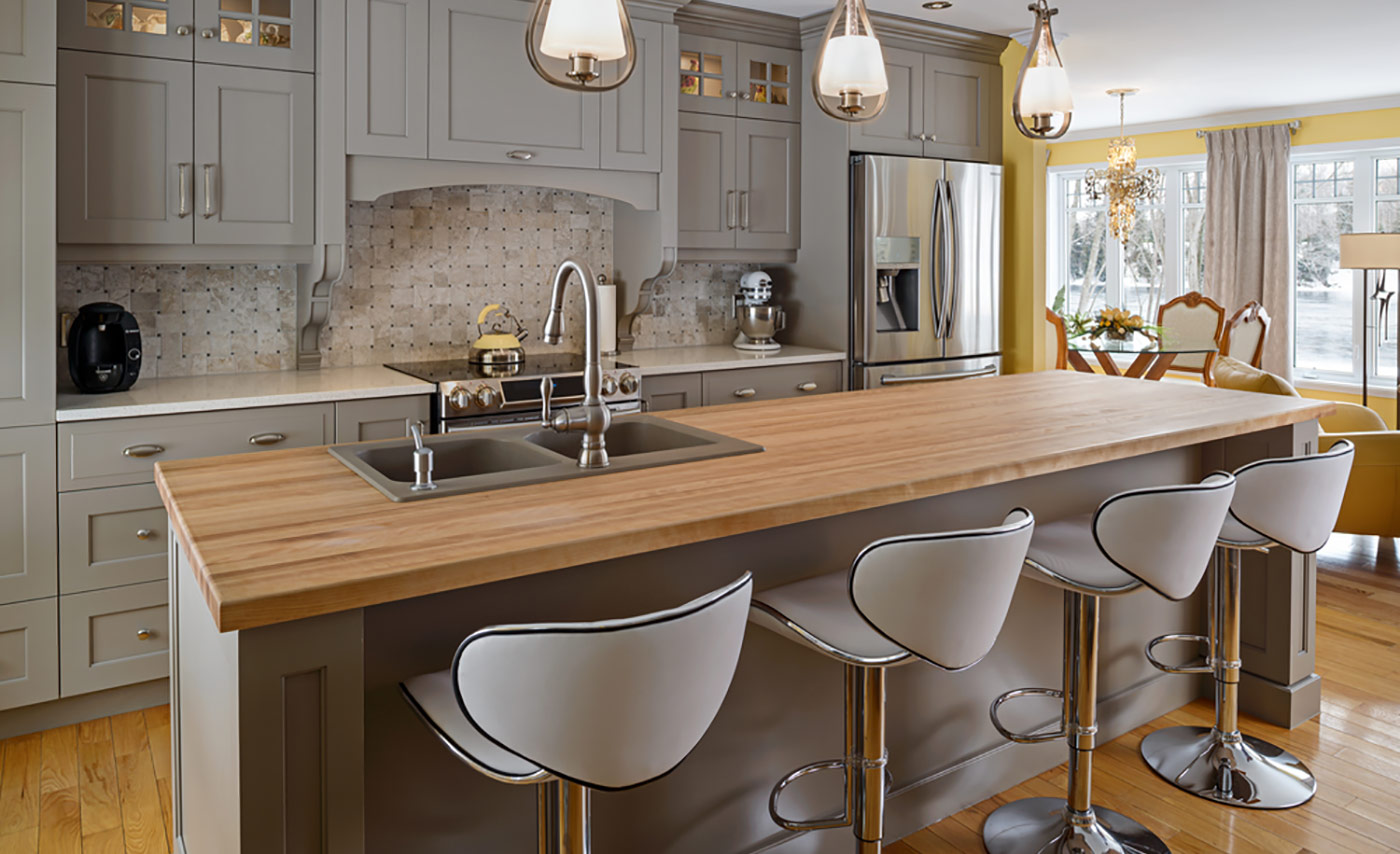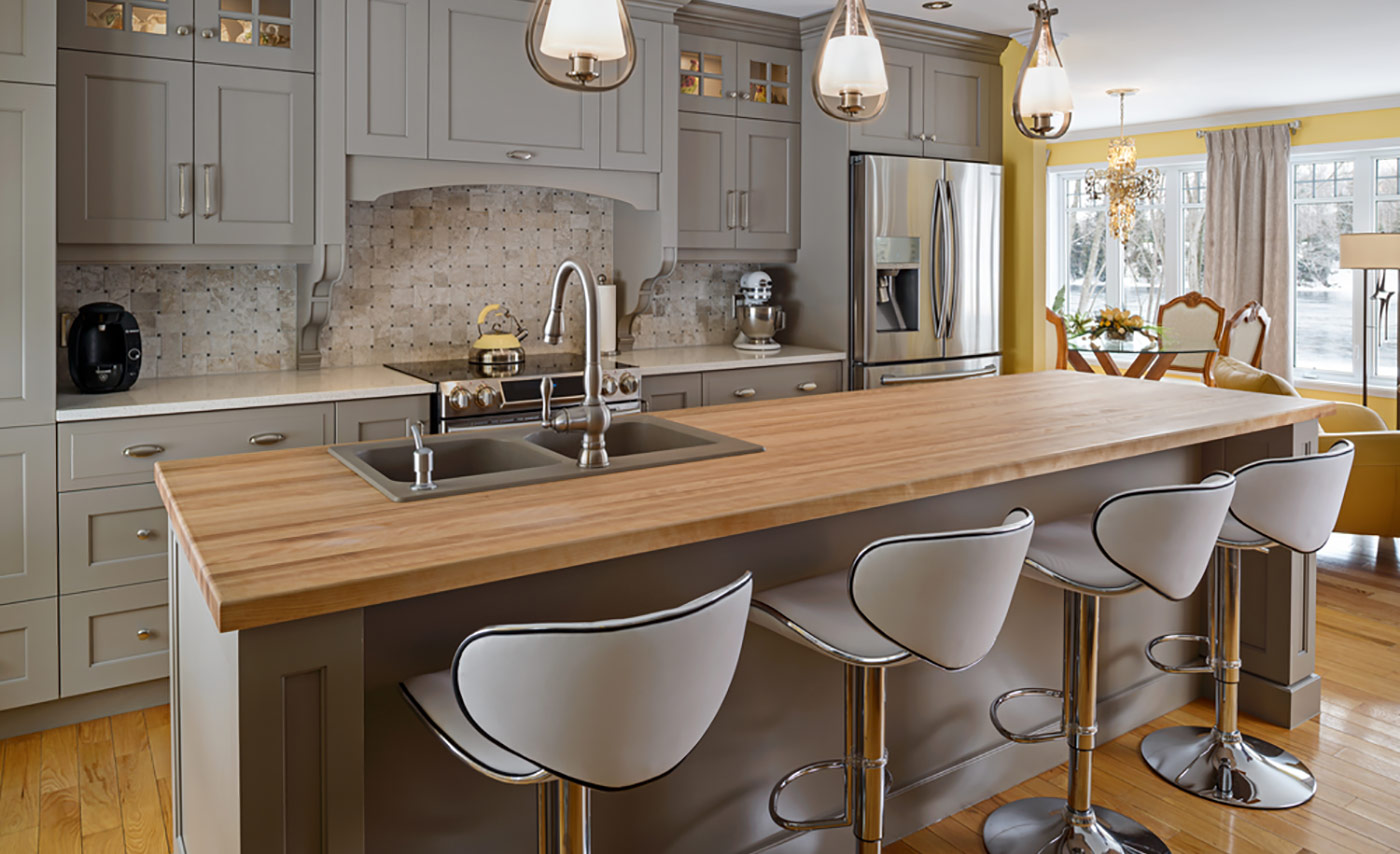 Photo credit : Cuisines Jacques Bernier
Advantages
A wooden counter, something like a butcher's block, makes a statement. It has a look that is both authentic, and original.
It's easy to install and can easily be fixed.
Certain types of wood, such as teak, are impermeable and are perfectly adapted for kitchens.
Inconveniences
The wood is sensitive to heat, shocks and scratches.
It is relatively expensive and requires more maintenance than other types of counters. A sealer must be applied regularly.
Maintenance
Wood absorbs stains deeply, which is why it's important to clean up spills as soon as they occur. Apply natural oils and sand the wood as needed.
Quartz countertops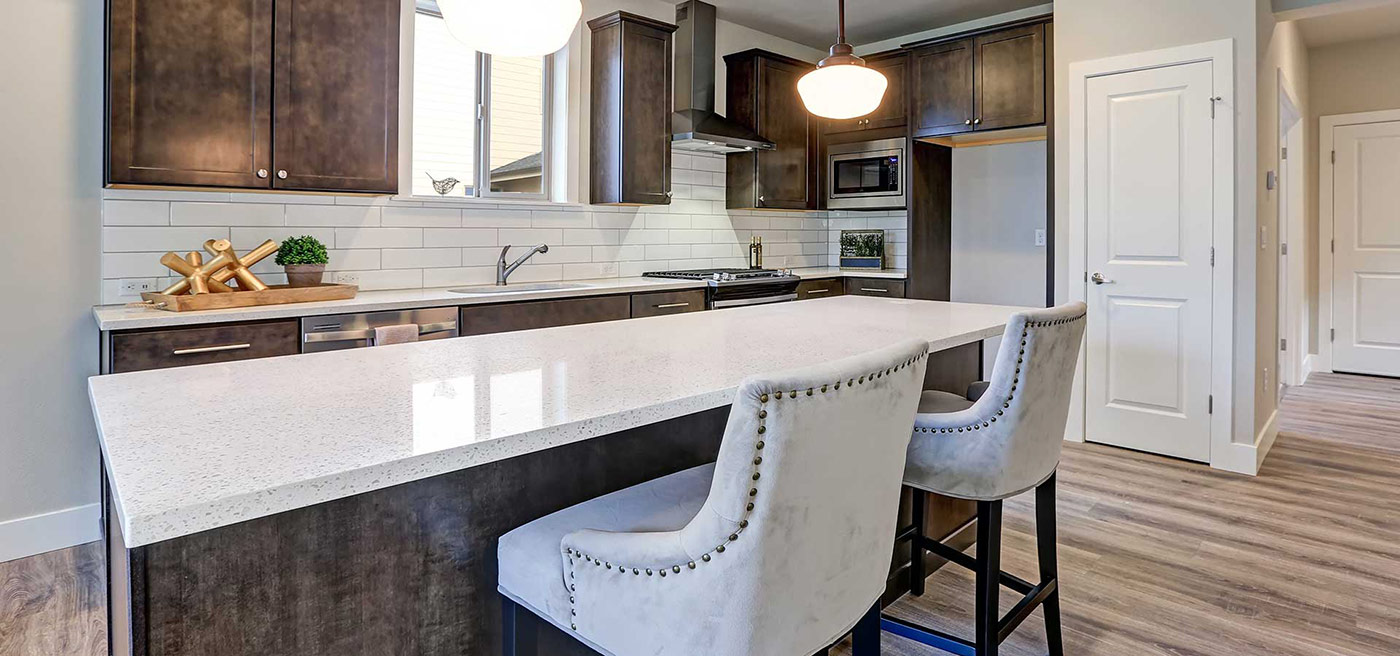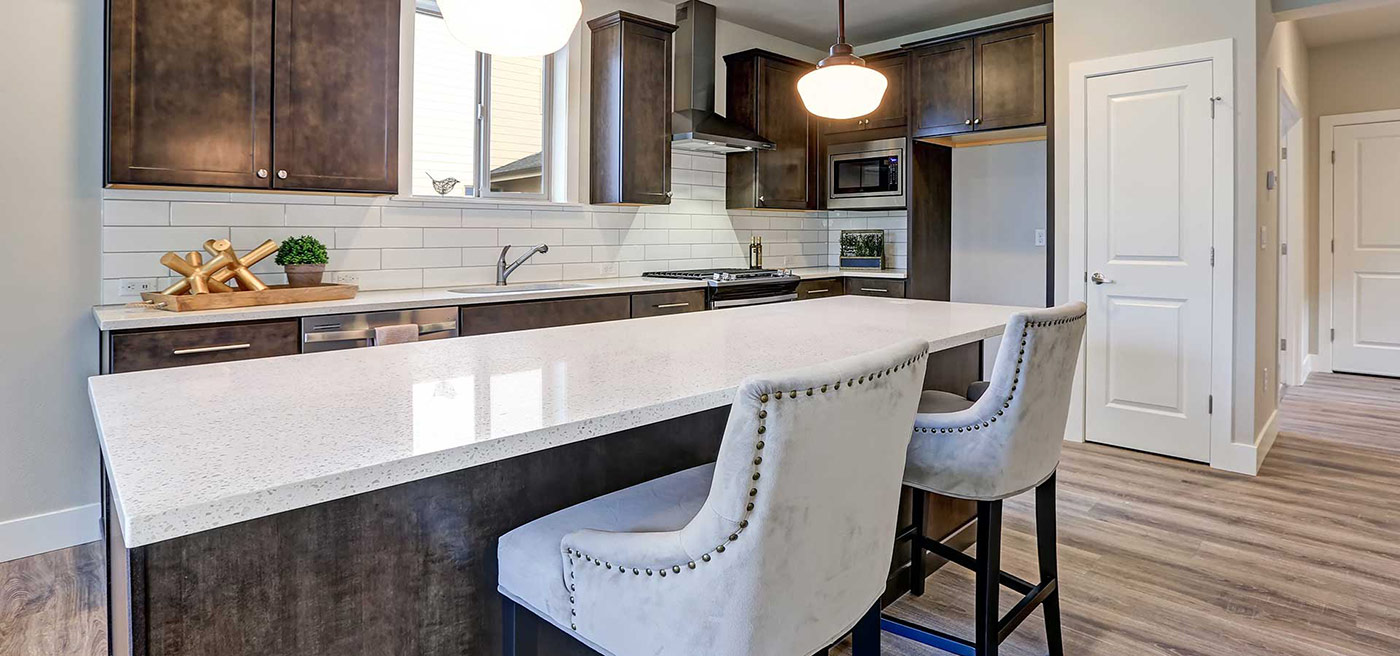 Crédit photo : Cuisines Exclusives Design Sherbrooke
Advantages
Quartz is offered in many shades and varieties. Unlike granite, it has a more uniform finish.
Beyond its decorative appeal, quartz is very resistant to shocks and scratches.
It is an antibacterial, watertight, durable stone.
Unlike granite and wood, quart counters do not require any sealant.
Inconveniences
They are relatively expensive.
The edges can chip.
Quartz does not tolerate heat very well, heat mats are required for anything over 150°C
Maintenance
Use a soft cleaning product.
Marble countertops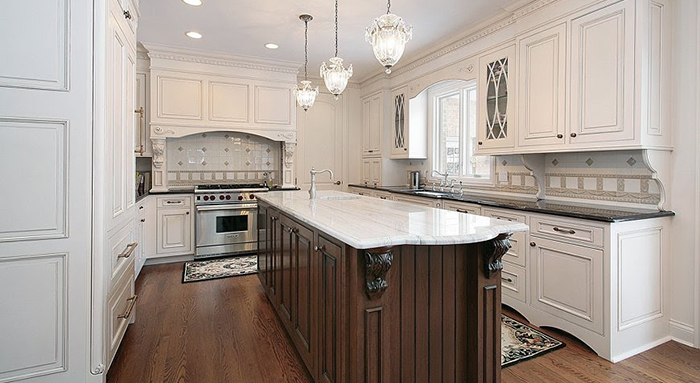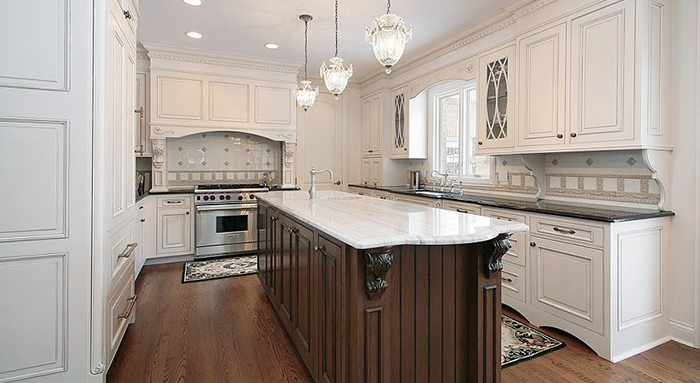 Photo credit : Granite M3R
Advantages
Marble never goes out of style, and adds class to any kitchen.
There is a wide range of shades.
Its surface resists well to shocks, wear and heat.
Inconveniences
Obviously, marble is an expensive stone.
A marble countertop can be very heavy, requiring you to strengthen the cabinets underneath.
It is sensitive to acidity and grease.
It requires a high level of maintenance.
Maintenance
Marble stains easily, stains must be wiped up immediately.
Sealant must be applied regularly.
Use a cleaning product with a neutral pH.
Finally, read our article to find out more about interior design.
Renovations in sight? Contact a Multi-Prêts mortgage broker to find out more about your financing options, no matter what the project you have in mind.
Key takeaways
According to the Appraisal Institute of Canada, renovating your kitchen can yield a 75% to 100% return on investment.
Noble materials require more maintenance.
Most surfaces require the regular applying of sealant.
Share
1
Choosing the ideal countertop for your kitchen
https://www.multi-prets.com/en/knowledge-center/choosing-the-ideal-countertop-for-your-kitchen/
en
https://www.multi-prets.com/en/
Multi-Prêts Mortgages
serviceclientelecdp@multi-prets.ca
1-800-798-7738
https://www.multi-prets.com/wp-content/themes/mph/images/logo_en.svg
https://www.facebook.com/Multipretshypotheques/
https://www.linkedin.com/company/multi-prets-hypotheques-mortgage-/
https://twitter.com/MultiPrets