With Halloween right around the corner, many families are preparing to give their homes a spooky makeover. This year, why not make your own decorations using items you already have in your cupboards—and your recycling bin? Inexpensive and eco-friendly, these simple craft ideas are fun for all ages.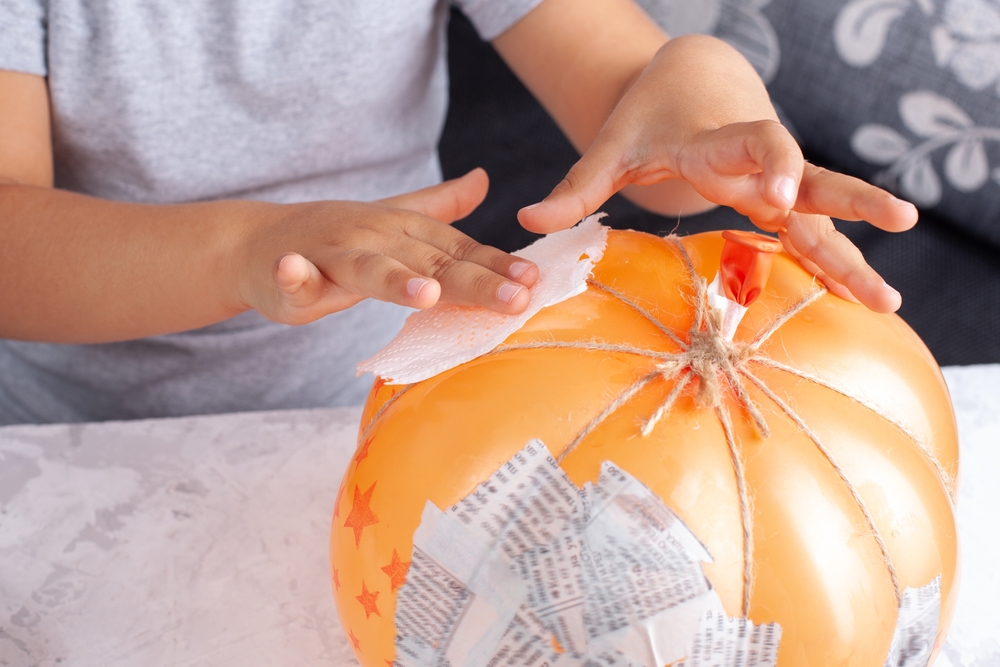 Papier mâché pumpkins
These original ornaments look just as good outdoors as they do indoors. Just be careful not to let them blow away in the wind!
In a saucepan, mix one part flour to five parts water. Place over low heat, stirring constantly until the mixture forms a viscous paste. While your homemade glue is cooling, inflate a rubber balloon to the desired size. For a more realistic look, you can wrap a string around it to mimic the ridges on a pumpkin. Use a brush to spread the glue over the balloon, then cover it with at least three layers of newspaper strips. The knot of the balloon will be the stalk of your pumpkin. If you want to put a light inside your pumpkin, simply cut off the knot and pull out the balloon once the glue has fully dried. Next, paint your pumpkin the colour of your choice. Depending on the paint you use, you may need to apply several coats. Finally, use a marker to draw eyes, a nose, and a mouth. You can also cut them out with a knife so you can place an LED candle inside!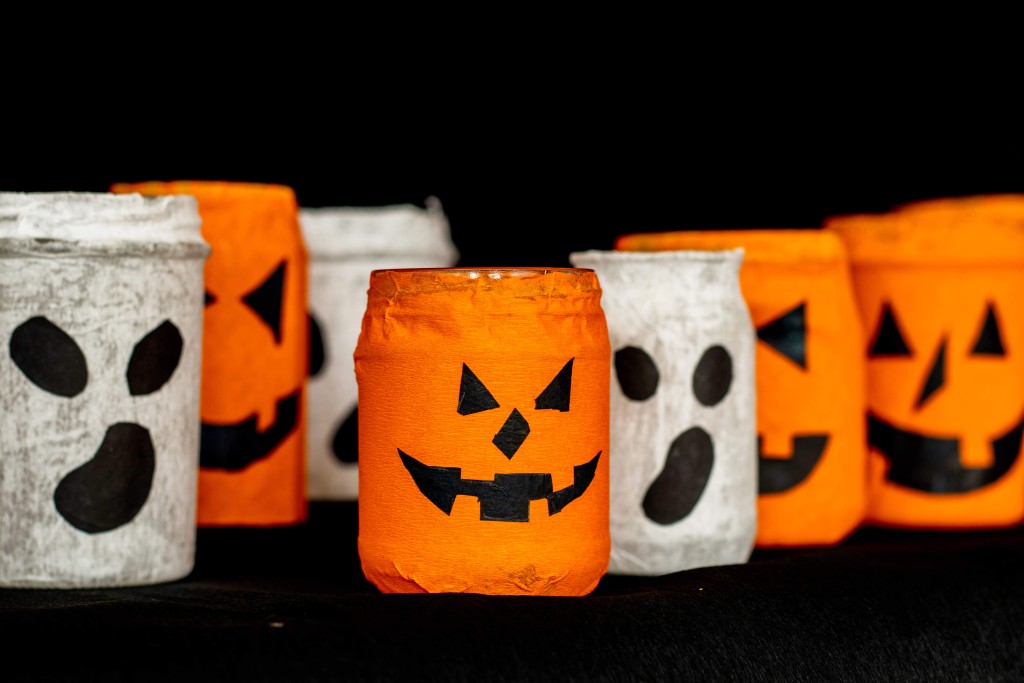 Spooky lanterns
Got a lot of spare jars in your pantry? Turn them into lanterns!
Using glue or tape, cover the jars with tissue paper, crêpe paper, or construction paper. To create a pumpkin lantern, use orange paper and draw or glue on a pair of eyes, a nose, and a mouth. You can do the same thing with white paper to make ghost or mummy lanterns. Finally, place an LED or wax candle inside each jar, and voilà!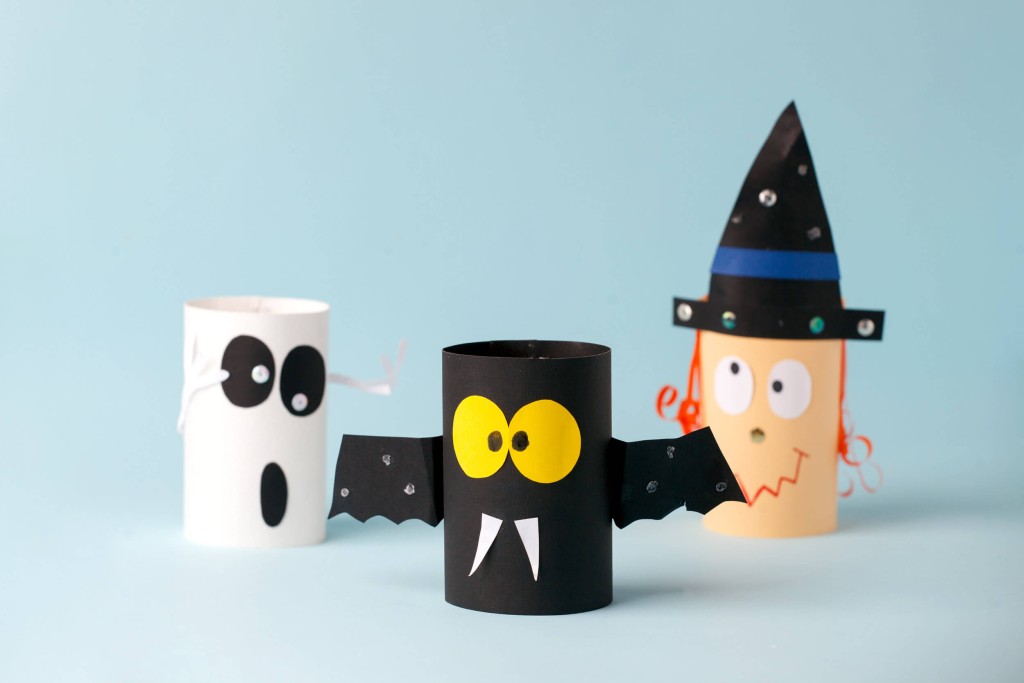 Recyclable monsters
If you have some empty toilet paper rolls in your recycling bin, give them a second life by transforming them into pint-sized Halloween figures to display around your home. This activity is ideal if you have young children!
Start by painting the cardboard tubes—for example, grey or black for a bat, orange for a pumpkin, or white for a ghost. Your kids can use their imagination to create one-of-a-kind monsters in whatever colours they like. Once the paint is dry, it's time to add faces. You can do this using paint or marker, or you can cut out paper features and glue them on. If you have empty blister packs lying around, you can even make your own googly eyes! Lastly, consider adding details such as bandages on a mummy. Older children can fashion wings, hats, teeth, or hair from construction paper.
Ghostly maple leaves
On your next family trip to the park, gather a few of the best-looking maple leaves you can find.
Back at home, use a brush to paint the leaves white (you can also use cotton balls to prevent flaking), and then set them aside to dry. Next, add faces to your ghosts by drawing two eyes and a mouth on each leaf in black marker. As a finishing touch, snip off the stems and carefully trim the tops of the leaves to create round heads.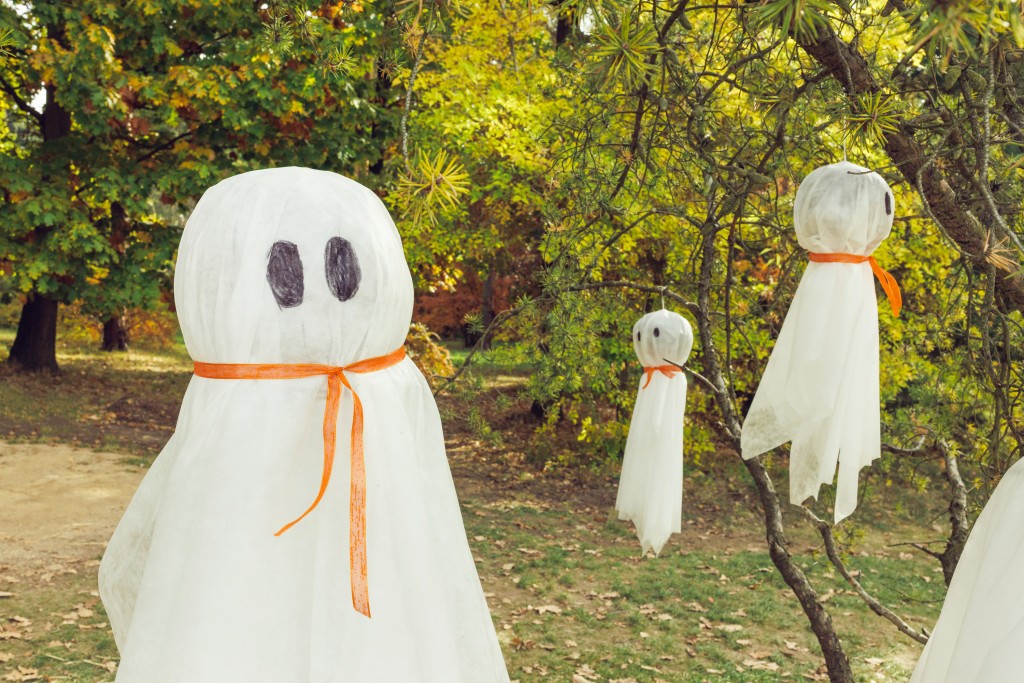 Floating phantoms
When it comes to Halloween decor, you can never have too many ghosts—especially when they're this creative!
Inflate a bunch of white or clear balloons to different sizes. Attach some fishing line or black thread to each one so you can suspend them from a tree or another object. Drape a piece of white fabric over each balloon. You'll need to cut a small hole in the centre for the fishing line or thread. Finally, use a thick black marker to draw scary faces on your gang of ghosts.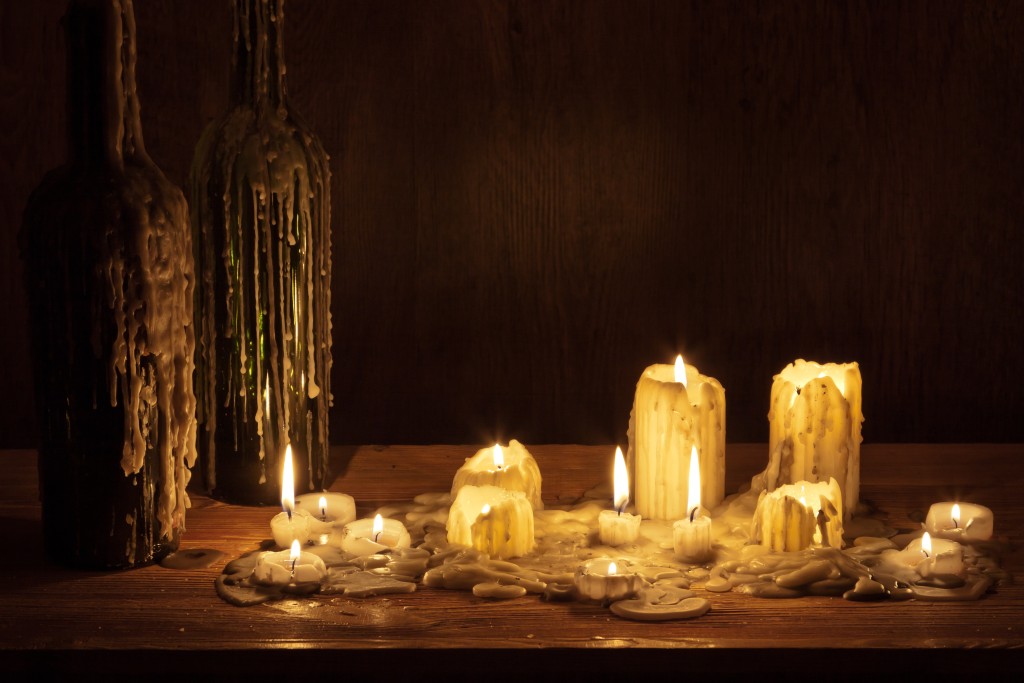 Dripped-wax bottles
Wine bottles are another recyclable item that can be used for Halloween decorations.
It's important to do this activity in a room where there are no drafts or breezes. Choose a table that's a comfortable height for your kids and cover it with something to protect it from dripping wax. Start by placing a candle in the opening of each wine bottle. Light the candles and allow them to burn down completely, letting the wax drip down the sides of the bottles. Feel free to peel off the wine labels beforehand and use different-coloured candles for variety!
Brain in a jar
This edible centrepiece looks like something straight out of a horror movie. It's sure to send a chill up your party guests' spines!
Take a head of cauliflower and trace red lines along the crevices using food colouring and a cotton swab. Refrigerate it for a few hours, then place the cauliflower in a large glass jar and cover with water. To enhance the illusion of a brain preserved in formaldehyde, add a few drops of soy sauce to give the water a repulsive tinge.
Remember, the secret to making great homemade decorations is to let your creativity run wild.
Happy Halloween!