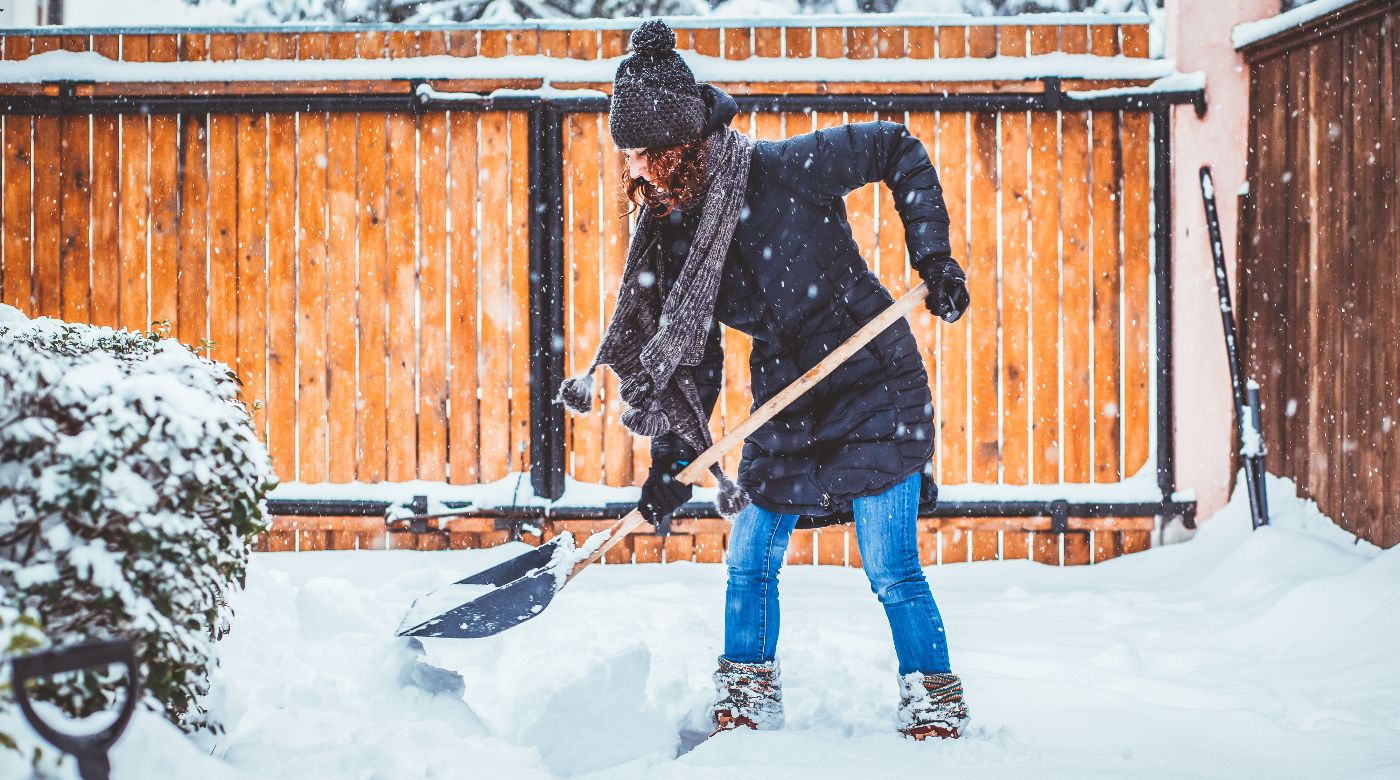 Love it or hate it, snow is a fundamental aspect of winter in Quebec. In addition to covering the ground like a beautiful white blanket, it allows us to enjoy a whole host of outdoor activities. However, too much snow can make it difficult to access your property. Fortunately, when it comes to snow removal, there are several options available.
Stay in shape by grabbing a shovel
Shovelling is the most affordable method of snow removal out there. All you need is a shovel . . . and your muscles! Once winter is over, you can easily store this tool in a shed, basement, or closet.
If you're not in great shape, don't push yourself too hard, especially if you need to clear a large area. Shovelling can be a great workout, but it can also cause back pain.
It's also important to keep in mind that shovelling takes time. The morning after a blizzard, you may not have the time to clear your driveway before leaving for work.
Protect your vehicle with a carport
Typically made up of metal posts and a white tarp, carports are temporary structures that shield your driveway from snow. Your car remains protected from the elements, just as if it were parked in a garage.
After a major snowfall, you'll be able to drive straight to work without wasting precious time de-icing your vehicle.
What's more, these temporary shelters require very little maintenance. During the winter months, simply brush the snow off the tarp every now and then to prevent it from tearing and regularly check the structure for damage. If you take good care of your carport, it can last 10 years or more.
A not-so-elegant solution
Unfortunately, carports are known for being anything but nice to look at. In the fall, your car shelter may ruin the look of your property. In the spring, you'll want to take it down as soon as possible.
You'll also need space to store the posts and tarp throughout the rest of the year. You can always pay to store it somewhere, but that'll only increase your snow removal costs.
And that's not even counting the cost of the carport itself, which will put a much bigger dent in your wallet than a simple shovel. If the tarp tears, you'll need to have it repaired or get a new one.
And if you're not handy, putting up and taking down your car shelter may not be so easy. To get around this issue, consider asking friends for help or hiring someone to do it for you.
Certain companies even offer carport rentals. This turnkey solution is ideal for people who don't want to worry about assembly and storage; the company takes care of everything. On the other hand, in the long run, this service is generally less cost-effective than purchasing your own carport, since you won't be the owner.

Make a game of snow removal using a snowblower
Whether electric or gas-powered, snowblowers move snow more easily than shovels do. They're especially well suited for bungalow or cottage dwellers who need to clear large areas. These devices make it possible to dig out a path between your house and shed in just a few minutes.
Some users also admit that they love using their snowblower. They think of it as a hobby more than a chore. Maybe it'll be the same for you!
A noisy, polluting device
Although you and your snowblower are likely to become fast friends during the winter months, you need to know that these machines aren't without their flaws. For instance, gasoline-powered models are known for being quite noisy. If you decide to use your snowblower early in the morning or late at night, you may risk irritating your neighbours.
In addition to being a major source of noise pollution, gas-powered snowblowers emit carbon monoxide, a toxic gas that's harmful to the environment. Electric models are more eco-friendly, but they're often not very powerful. They're best suited for people who only have a smaller area to clear.
Large or small, you'll also need to store your snowblower for many months out of the year. Most people store these devices in their garage or shed. Because snowblowers are so heavy, keeping them in your basement or closet isn't typically an option.
Another aspect to consider is their cost; some snowblowers will set you back $2,000 or more. At that price point, you'll need to use your unit for many winters to make your purchase worthwhile.
Outsource your snow removal to a specialized contractor
Working with a snow removal contractor is a great way to get peace of mind. After every snowstorm, they'll come and clear your driveway for you. You won't even have to lift a finger! You'll have to clear the snow from your car, and sometimes your stairs, and maybe your front porch, too.
But you won't have to make room in your garage to store your snowblower or carport—the snow removal company will take care of everything.
The most expensive solution long term
In certain municipalities, every neighbourhood is covered by a single contractor. That means you don't have any negotiating power when it comes to price. In fact, this type of service is probably the most expensive solution in the long run, because you have to pay the snow removal company every year.
What's more, some companies will only plow your driveway. If you want help clearing the snow from your stairs, you may have to pay extra or hire a different specialized snow removal service. Either way, you're looking at a more expensive bill.
Customers have been known to get into conflicts with their snow removal company regarding punctuality, among other things. To avoid this issue, make sure you have a proper contract that mentions snow removal schedules.
Key takeaways
Shovelling may be great exercise, but it isn't practical for people with larger properties or who aren't in good shape.
A carport will protect your car all winter, and requires little maintenance. However, you'll need to be handy in order to assemble and disassemble it every year, and you'll need someplace to store it during the summer.
Snowblowers are very efficient, but gasoline-powered models are often noisy and polluting. Electric models are a good alternative, but they tend to be less powerful.
Snow removal companies allow you to outsource your snow removal duties. Just make sure you have a proper contract to avoid unpleasant surprises.