by Multi-Prêts Mortgages
What you'll learn
Decluttering, cleaning, and planning
Vertical storage, economical solutions
A garage for the do-it-yourselfer
More ambitious projects
If you want to remodel your garage, you may be experiencing a number of desires or frustrations. Perhaps it's overflowing with items you're storing "for now." Maybe you'd like to get more out of it by using it for a certain activity. Or maybe you just want to use it more regularly for—your car. If you've just moved into a new house, you might see an opportunity to design an orderly, functional space, perhaps even a pretty one, or one that's downright spectacular.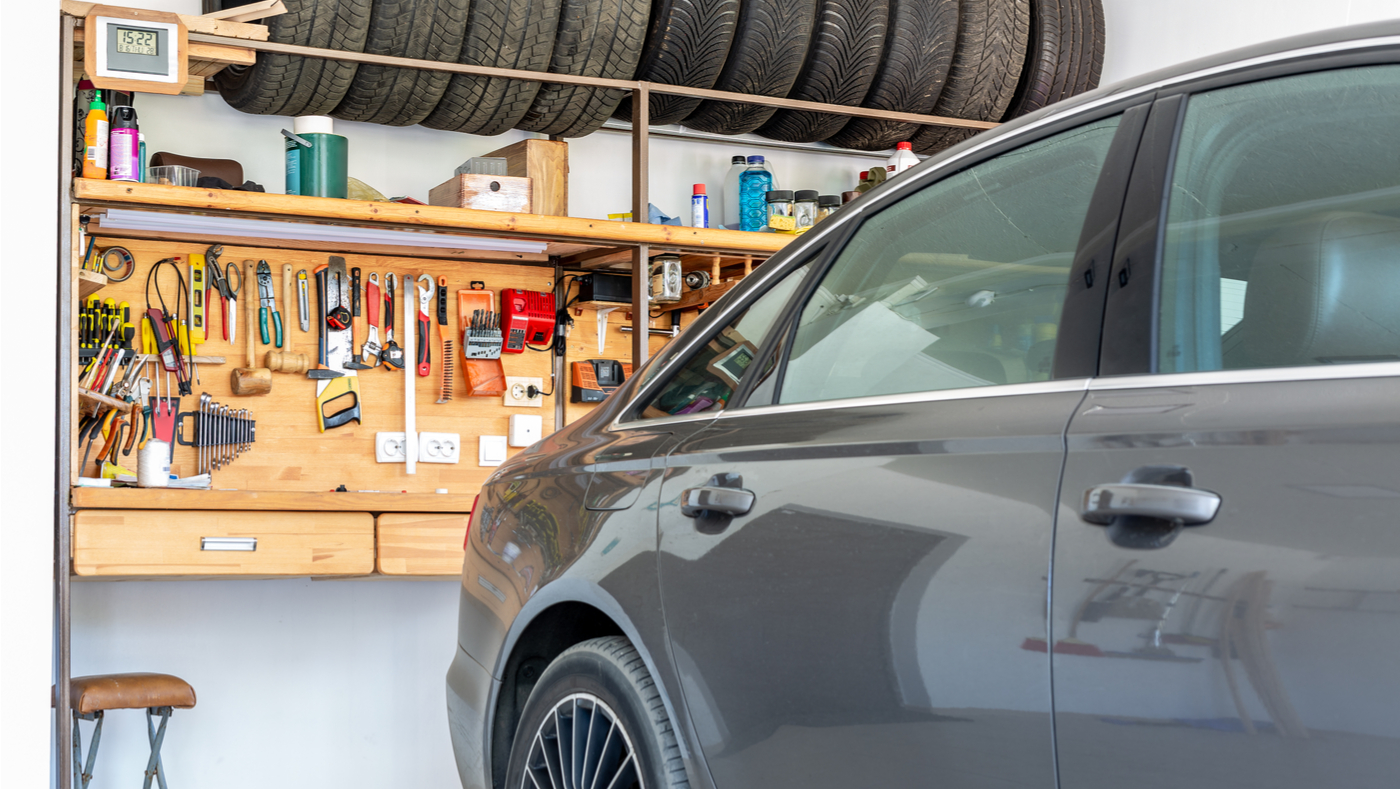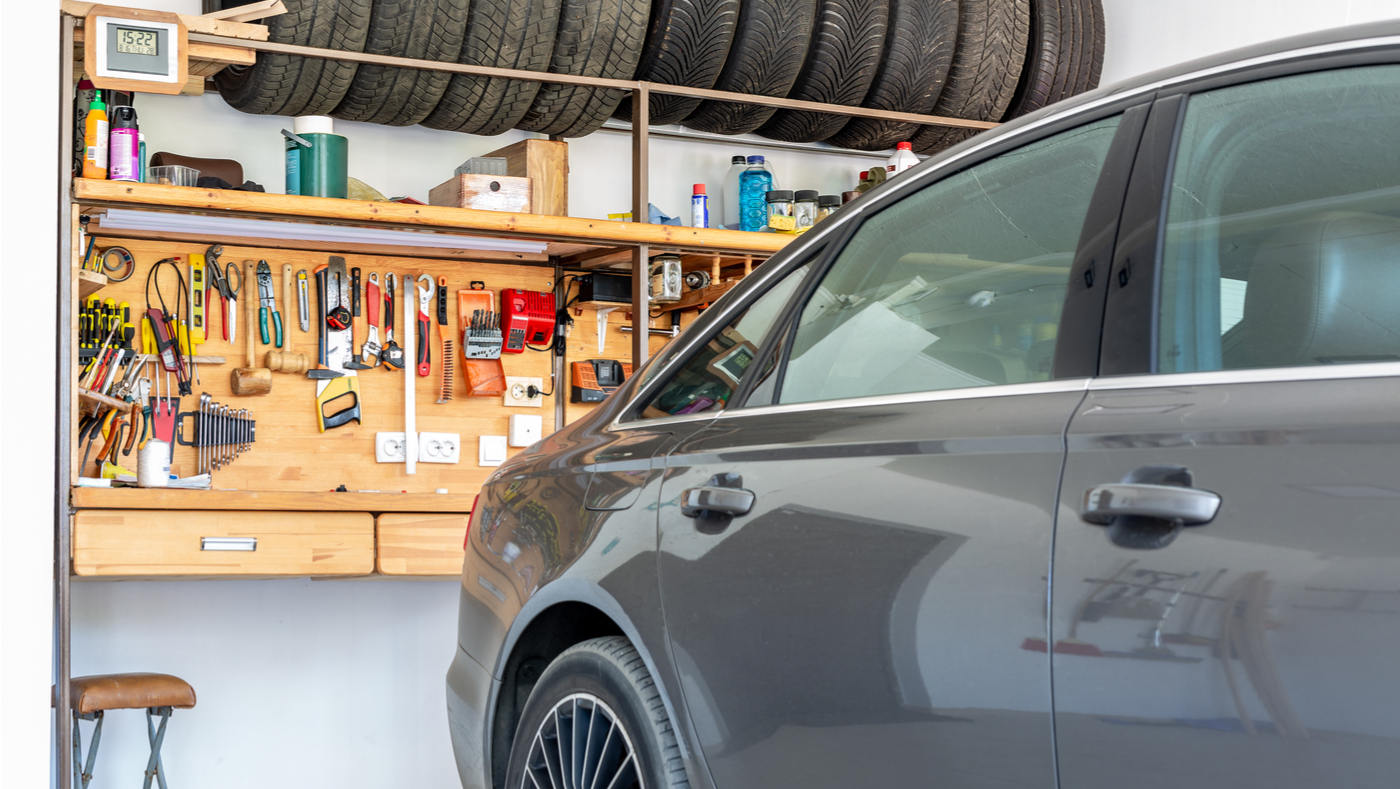 There are a number of solutions for organizing the space and even making it pleasant if you plan to spend a little—or a lot—of time there. Here are some suggestions to keep in mind, based on your budget and how you want to use your garage.
Declutter, clean, and plan
Before you do anything else, it's important to give the space a thorough decluttering. Sort through the junk and decide what to throw out, what to give away, and what to keep. Then classify what you're keeping by subject (auto care, sports, DIY, indoor and outdoor maintenance, etc.).
Take advantage of this decluttering process to clean the walls and floors and do some repairs. Sometimes all it takes is a few strokes of a paintbrush to make the difference between a solely utilitarian room and a place you want to spend time in.
Then make a plan of your garage and decide what kind of storage is necessary—and possible—to organize your belongings. There are three things to keep in mind:
The space required for your vehicle: make sure you can move freely around it.
Large, cumbersome items like the lawnmower should, whenever possible, be placed in the corners.
Your main guiding idea in remodelling your garage should be to free up as much floor space as possible.
Vertical storage, economical solutions
To free up floor space, there's nothing better than getting the most out of the walls and ceiling. Here are some economical suggestions to consider if your main goal is simply to have a well-organized space.
Perforated or grooved storage panels
These kinds of panels, which cost little in their basic form, can be used to store small- and medium-sized objects with hooks and brackets of all kinds, and can come with perforated baskets and other accessories. Use them to create homes for tools, bottles, and lightweight materials.
Shelves and shelving units
Installing wall shelves is a simple and affordable way to store objects of various sizes. Some of these storage solutions are especially practical because they can serve different functions, like serving as hooks. Think about getting the most out of corners as well with adapted shelving.
Into upcycling? A stack of artfully arranged old wooden crates makes an excellent mobile storage unit. Old school lockers can also be highly useful.
Not into DIY? There are a lot of affordable, utilitarian shelving units on the market that will do just fine. Some are big enough to hold large plastic containers.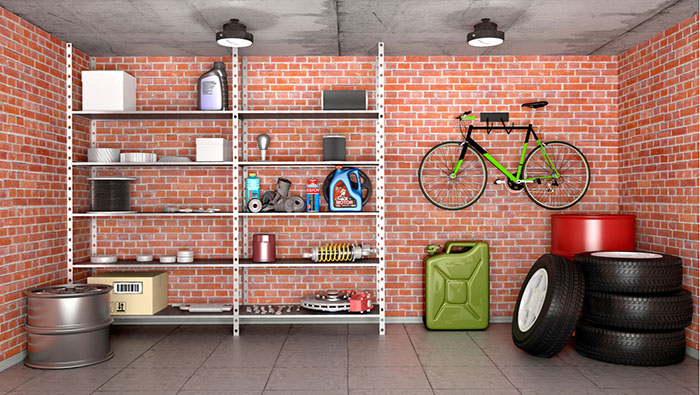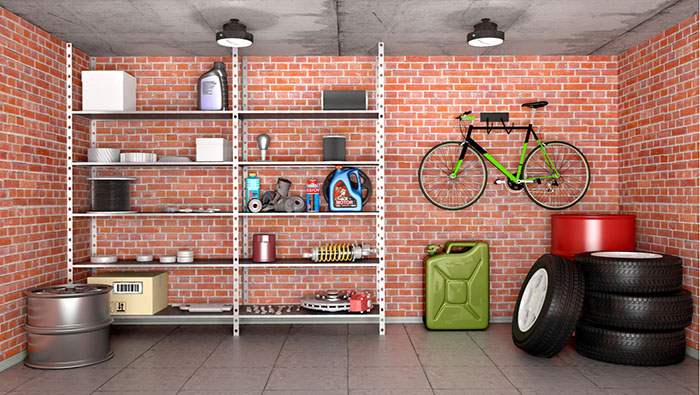 Cabinets
Take advantage of your upper walls by installing cabinets for little-used or seasonal items. Considering using your old kitchen cabinets. You'll give them a second life and save money too.
If placed lower than in the kitchen, the cabinets can provide easy access to things you use often but don't necessarily want to see.
Other simple tricks
Magnetic strips can be fastened to the walls to hang screwdrivers, scissors, and other tools that stick to magnets.
For long, thin objects like shovels or rakes, consider tube molds (for pouring concrete) or vertically placed pallets.
If you have large opaque or translucent plastic containers, it might be hard to figure out which one has that camping lantern you need—right now. Number your containers and keep a general or detailed list at hand that tells you what's inside each one.
Install pairs of good-sized ceiling hooks to store fishing rods, skis, and other long items, or strong pipes to support all kinds of things. Put a ladder rack on it or bicycle hooks.
A garage for the do-it-yourselfer
Got a more substantial budget? Want to use the garage for manual activities like automotive work, carpentry, or home handiwork?
The same basic principles apply. Think vertical: use the floor as little as possible and the ceiling as much as possible. There are, however, many more possibilities.
More robust and attractive systems
Perforated and grooved storage panels are also available in metal and plastic as well as multiple colours. Some grooved panels are strong enough to hang bikes or even a wheelbarrow.
Shelves can be part of a horizontal-rail wall system with hooks, baskets, and other accessories that can be placed wherever you need them. In addition, some ceiling rail systems can hold boxes, hooks, and shelving units, and storage units can be suspended from the ceiling.
Shelving units placed on the ground should be strong enough to hold heavy objects and materials.
Work tables
If you want to do manual work, you'll need a work surface. While you can find online tutorials on making a workbench for around $100 (or more), there are some pretty interesting solutions available for purchase. These include tables with bases that offer shelf or drawer storage and wall benches that can be folded up to save space.
More ambitious projects
Some remodelling projects can become major undertakings. This is the case for automotive enthusiasts who want to convert their garage into a "temple" for their car or budding renovators who want to use their garage for a particular purpose all year long. For more ambitious projects, storage isn't the only issue to consider. You also have to think about working to improve the comfort and utility of the space.
You may want to hire a professional contractor to handle the complexity of some projects. Our blog post on the topic will help you choose the right one.
Significant investments
Lighting, insulation, and heating should be primary considerations if you want to use your garage throughout the year.
You may want to take the opportunity to have your floor repaired or redo it entirely with a suitable floor covering. Mechanics may even want to install a drain or add a car lifting system.
An extension can also be added if the garage seems too small for your big dreams.
A garage without a car
Have a garage, but no vehicle?
Your imagination is the only limit to what you can do: family room, children's rec room, artist's workshop, music room, gym, etc. Anything is possible.
Your budget is, of course, a deciding factor for the scope of the work you decide to do.
For smaller projects, personal savings may be enough. For more ambitious projects, however, you may need to find alternative financing, such as a second mortgage. This is a common solution for renovators, as it generally offers a better interest rate than a credit card or personal loan. It may be an option if you have yet to save up the amount needed to bring your project to life. If you're unsure about which financial institution to turn to, a mortgage broker can help you with your search and get you the right financing solution for your project.
No matter what your project's size, it's important to make a plan and a budget. Set aside a sufficient amount for contingencies so as to avoid any nasty surprises!
Key takeaways
Before you start to remodel your garage, do a major decluttering.
No matter what the project, free up floor space and maximize your use of ceiling space.
For larger projects, you may need help from a general contractor and another source of financing such as a second mortgage.