by Multi-Prêts Mortgages
What you'll learn
Family winter sports that venture outside the box
Creative endeavours to spark up the imagination for those who don't like sports
Creating unforgettable memories for all
The holiday season isn't just a time for celebration, but a great opportunity to make some memories with the family. Here are a few suggestions to spread your holiday cheer outdoors.
For hardcore competitors and weekend warriors
Skating
Visits to the neighbourhood outdoor rink are accessible and entertaining. Make them even more stimulating by rounding up the neighbourhood gang for an impromptu hockey game. For a change of scenery, try forest skating in one of the many facilities that offer skating treks on frozen paths that go on for many kilometres.
Biking
A regular bicycle can be suited for winter by changing the tires, but for a unique family outing, fatbikes can't be beat. A fatbike is a mountain bike that's been fitted with huge tires. This bike can then be used on snowy trails and frozen lakes. For a fun test drive, rent one at a specialized dealer.

Ice climbing
Thanks to ice climbing, you can take on the frozen walls of a waterfall or cliff. Let experts guide you to make sure your entire family spends a day that is both safe and exhilarating. The minimum age varies according to the climbing centre and the iced surfaces.
Sports that don't require equipment
You can have fun outside with the family without any specific sporting equipment. Organize a soccer game using a block of ice as a ball, or build an obstacle course in the backyard: crawl under a tree, jump over a snowbank and hit a target with a snowball. To make it even more challenging, time the whole thing to establish a time to beat!
For your inspired artists
You can have fun in the snow and let everyone's creativity shine.
Snowy living room
Break out the shovels and bring the family together around a big project: building an outdoor living room. Build piles of snow that you will shape into a couch, a coffee table and a fireplace. Draw a carpet in the snow. Find the nicest blocks of ice and arrange them as you would decorative knick-knacks. Then take the time to sit for a while and joke around, as you would in a real living room. Not only will you'll be feeding your children's imagination, but you'll also be imparting some interior decorating ideas – or exterior decorating, as it were!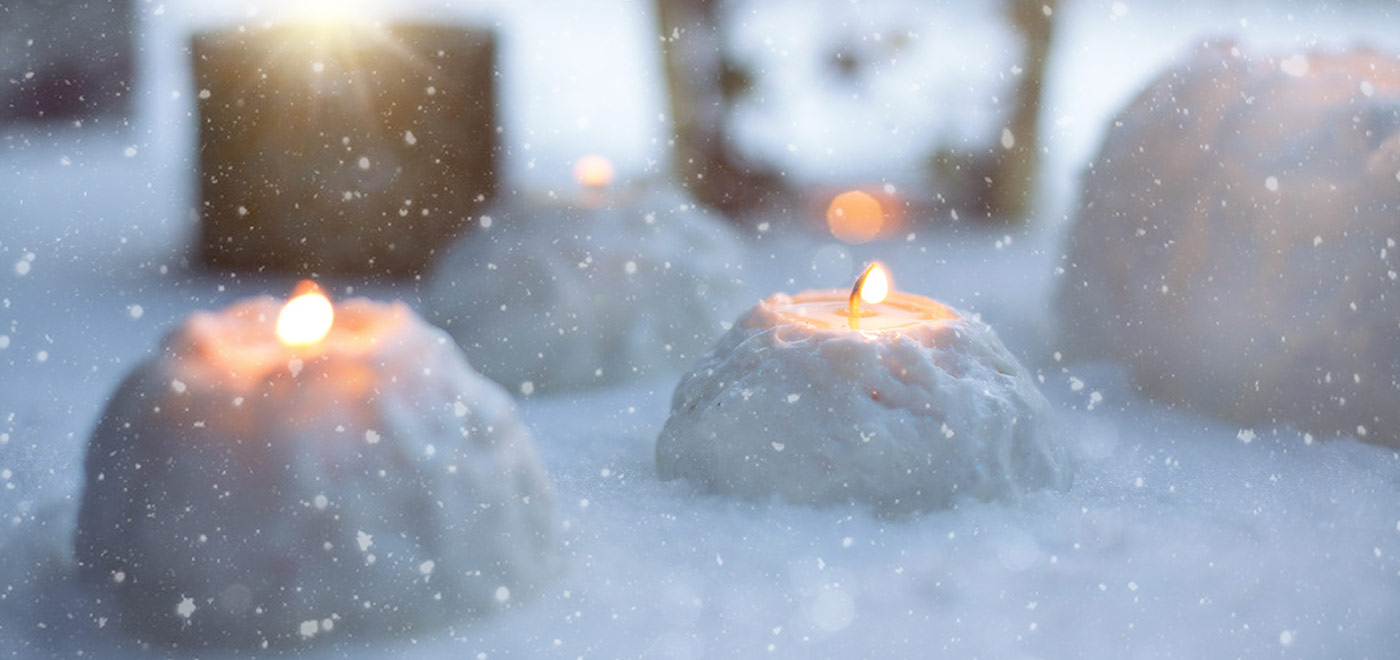 Snowflake party
Get outside and … dance! Invite your family to come shake a leg on a plowed patio or compacted snow. Take advantage of the sun setting early to create your own disco with colourful Christmas lights. Plug in a stereo or hook up a Bluetooth speaker to your cellphone and play your favourite tunes. Good times and great exercise guaranteed!
Outside playroom
Throughout the year, set aside the toys that your child has lost interest in. Once winter rolls around, bring them out once more. The snow will create new backdrops for action figures and new pathways for toy cars. Your children will be thrilled to rediscover old toys and take advantage of this outdoor playroom.
Frozen treats
Bring out your cake moulds and wooden spoons. Let your mini chefs take control of this outdoor kitchen where snow cakes, ice rolls and dead branch pies await! Foster your children's imagination by placing original orders or becoming their sous chef for a day.
Whatever you decide to do, remember that the most important thing is spending quality family time while enjoying the fresh air!
Key takeaways
Don't miss out on the fun of group sports on account of a lack of equipment. It's possible to take part in activities that require no special equipment.
You can foster a child's imagination by exploring the many creative possibilities snow holds.
Your children may forget the activity, but they'll always remember the good times spent playing in the snow with their family.