by Multi-Prêts Mortgages
What you'll learn
Make your move more eco-friendly
Reduce your environmental impact on moving day
Make your new home more eco-friendly
Find greener ways to renovate
Do your part for the environment
Moving causes pollution: consider the vehicle emissions, paint, and cleaning products it involves, not to mention all the things people throw away. Every July 1, tons of garbage is left out on city curbs and ultimately trucked off to landfills. If you're planning an upcoming move and want to minimize your ecological footprint, here are some simple and inexpensive solutions.
Make your move more eco-friendly
You don't have to buy costly new cardboard boxes to pack up your belongings. Grocery stores, pharmacies, and convenience stores often give their used boxes free of charge to those who request them, and some moving companies rent out reusable bins.
After you've finally finished unpacking, recycle your boxes according to your municipality's guidelines, or better yet, give them to someone who will be moving soon. You'll be giving them a second or even a third life!
While packing, you might come across things you don't want anymore. Don't put them out on the curb! Organize a garage sale instead—you'll make some money and reduce the amount of waste you produce. Remember to check your community's garage sale schedule. Some municipalities also require a permit.
If you don't have time to organize a garage sale, donate items that are still in good condition to charity. You'll be helping people in need while also doing something good for the environment. In addition to clothing, many charitable organizations collect toys, furniture, kitchen items, and knickknacks. Some even offer home pickup.
If you come across any old towels or clothes, don't throw them out! Use them as rags or turn them into tawashi scrubbers, a type of knitted sponge that originated in Japan. Plus, instead of buying bubble wrap to protect fragile items like dishes and picture frames, use old newspapers and flyers.
Do you have an old TV, an empty oil container, or leftover construction materials? The best way to dispose of them is to bring them to an ecocentre. Ecocentres are responsible for picking up, recycling, reusing, repurposing, and, if necessary, disposing of waste materials. You'll find them in most major cities, including Montreal and Quebec City.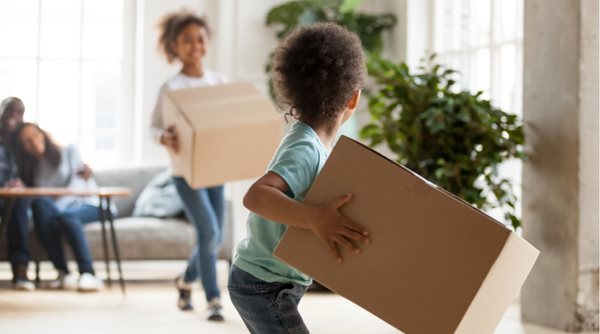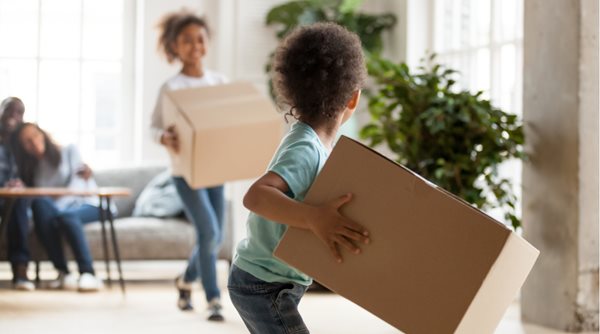 Reduce your environmental impact on moving day
Whether you decide to rent a truck or hire a moving company, choose a large truck so that you won't have to make multiple trips between your old home and your new one. If you have only a few items, check if there are any bicycle moving companies in your area. They're definitely the greenest option!
Make your new home more eco-friendly
When you move into your new home, you'll have to clean it from top to bottom. Some household cleaning products are bad for the environment, so choose products that are biodegradable, non-toxic, and not tested on animals. Buy your products in bulk or from specialty stores—or, better yet, make them yourself! You'll find lots of easy DIY recipes online.
In addition to cleaning, you'll probably want to paint your new place to make it feel more like home. Aim to use natural paint, which is usually free of volatile organic compounds and offers excellent durability. You can also find recycled paint in certain hardware stores. Although it comes in fewer colours than latex paint, it's less toxic.
Need to buy new appliances? Choose ENERGY STAR certified appliances. They use less energy, help reduce your carbon footprint, and lower your electricity bills. For example, an ENERGY STAR certified dishwasher consumes about 12 percent less energy and 30 percent less water than a regular dishwasher. Ask the retailer if they'll take your old appliances when the new ones are delivered. Most major chains do this for free and will dispose of them in an environmentally friendly way.
If you need new furniture, check out your local classifieds. You'll find plenty of used furniture and equipment at a good price. In addition to saving money, you'll be giving a second life to items that otherwise might have ended up in a garbage dump.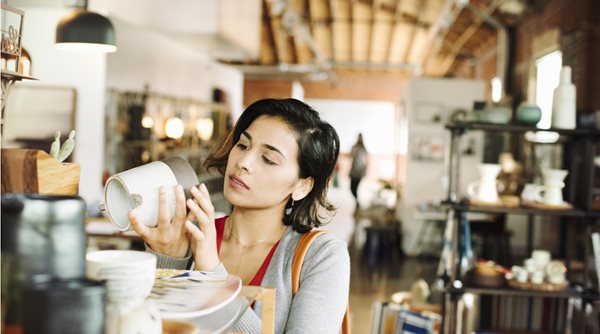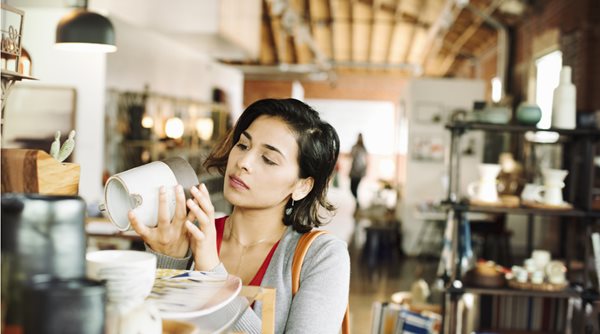 Find greener ways to renovate
Does your new home require renovations? Opt for eco-friendly materials, such as bamboo and cork.
If you need to replace any windows, choose energy-efficient designs, such as ENERGY STAR certified windows. They'll help you lower your heating bill by up to 10 percent. To save water in your new home, replace the old toilet with a low-flush model and install a low-flow showerhead.
To encourage property owners to go green when doing renovations, the government has implemented various financial assistance programs, such as Rénoclimat (until March 31, 2021). Find out more about them!
Do your part for the environment
Follow these tips for your own move and be sure to share them with friends or family members who might be moving soon. In the fight against climate change, every small gesture counts.
Key takeaways
Reusing old cardboard boxes reduces pollution and will help you save on moving costs. Pass them on to others to give them a second or third life.
Choose a large truck to limit the number of trips you have to make.
Green cleaning products are a great alternative to traditional household cleaning products.
Choose eco-friendly or recycled paint instead of latex or oil paint.
Instead of throwing things away, donate them to charity, bring them to your local eco-centre, or hold a garage sale.