How to build a home theatre
by Multi-Prêts Mortgages
What you'll learn
Determining the type of home theatre best suited to your needs and budget
Knowing the different options available when it comes to sound systems
The basics of soundproofing and acoustics
Ah, home theatre systems… Every fan of TV series, electronic gadgets and epic movies dreams about owning one. If you decide to take on this project, there are a few aspects you should keep in mind to maximize efficiency in your new space, while keeping an eye on your budget!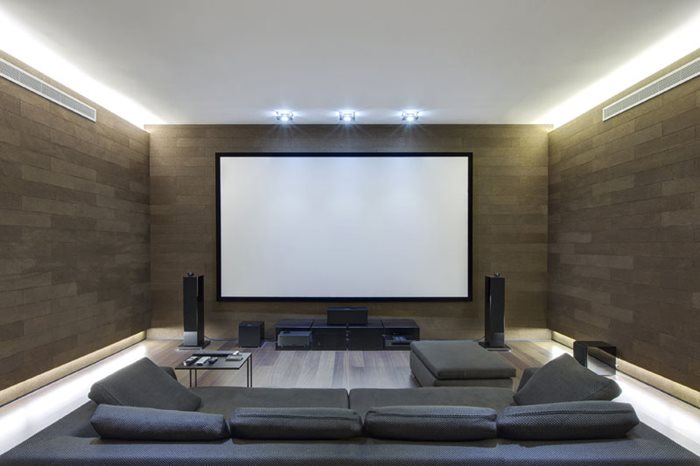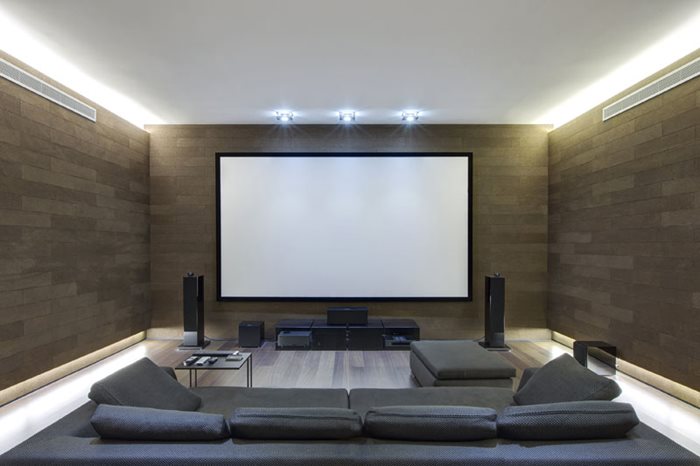 Photo credit: Québec Acoustique
The screen
The first question you should ask yourself: projector or television? Many factors can influence this decision: the size of the room, picture quality, and your budget. For a more affordable home theatre, a wall-mounted 50 inch (minimum) flat-screen TV can do the trick. If you're looking for something a little closer to the multiplex experience, you'll want to go with a projector.
You can choose to have it fixed, retractable, motorized … even 3D! Some rules to keep in mind: the screen must keep a 16:9 ratio and be at a distance of twice the diagonal length of the screen from the viewers.
Soundproofing
If you'd like to maintain a good relationship with your neighbourhood (or just avoid annoying your whole family), you should consider soundproofing your home theatre! It's a must to not only prevent sound bleed, but also maintain impeccable acoustics in your new room. The golden rule is to have at least 40% of your surfaces absorb sound.
Start with air leaks: they will necessarily lead to sound leaks, which is what you're looking to avoid at all costs. The room must be completely hermetic. First, make sure your walls are sealed: stuff them with acoustic insulation wool and make sure you have at least two layers of gypsum to avoid low frequencies bleeding through. You can then move on to the doors and jambs. We recommend a steel door, but you can always go for an acoustic sealant if your budget is smaller. Finally, don't forget about the electricity! Isolate your electrical outlets and invest in noise-reduced bulbs for optimal acoustics.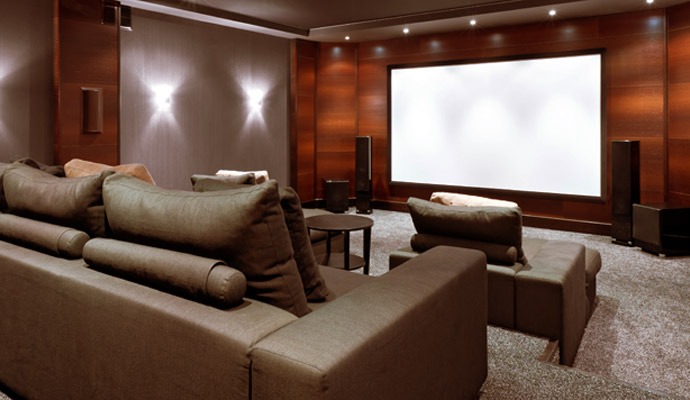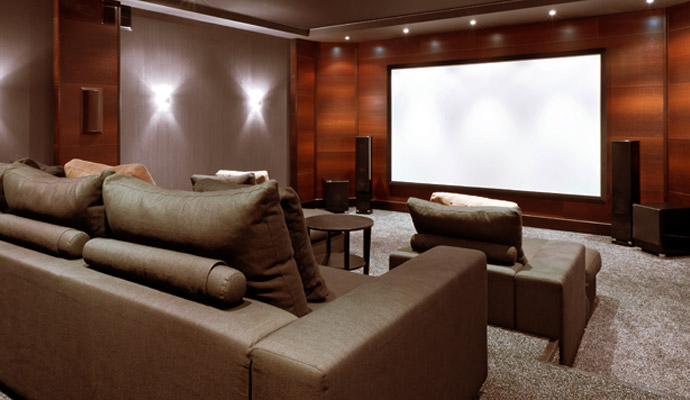 Photo credit : Best Buy Canada
The sound environment
A basic home theatre is usually made up of five speakers: one central, two lateral speakers placed on each side of the screen, as well as two others located at the back of the room.
You can find basic sets with speakers, an amplifier, a receiver and all the wiring for under $1000. If you'd like to invest in higher-end equipment, buy the items separately. You can also invest in more speakers to ensure an all-surrounding state-of-the-art sound. When you're drawing up your budget, don't forget to include wiring: it can represent 15% to 20% of the costs of electronic equipment.
Regardless of your financial plan, remember that it's important to be consistent with the quality of your components. An exceptional screen paired with low-end speakers could put a damper on your movie experience. Give your project the means to achieve its ambition.
The seats
Because a good movie should be enjoyed comfortably, you shouldn't neglect the quality of the seating. Of course, a simple couch can always do the trick. To host more movie lovers in your own private theatre, you should get modular-type furniture. Dreaming big? Build a true projection hall with raised individual cinema-style seating set out in rows. No need to leave the house after that!
Financing the construction of a home theatre
If you'd like to find out more on how you can finance your renovations, check out our article "Borrowing more to renovate your home".
Start by defining your budget. This will allow you to determine what kind of home theatre is best suited to your financial reality.
Don't neglect the soundproofing. This will allow you to ensure quality acoustics in your home theatre.
Be consistent with the quality of your electronic equipment.
Share
1
How to build a home theatre
https://www.multi-prets.com/en/knowledge-center/how-to-build-a-home-theatre/
en
https://www.multi-prets.com/en/
Multi-Prêts Mortgages
serviceclientelecdp@multi-prets.ca
1-800-798-7738
https://www.multi-prets.com/wp-content/themes/mph/images/logo_en.svg
https://www.facebook.com/Multipretshypotheques/
https://www.linkedin.com/company/multi-prets-hypotheques-mortgage-/
https://twitter.com/MultiPrets