Tips to visit a home in winter
by Multi-Prêts Mortgages
What you should look at in winter
Advantages of thermography
How to assess the back yard
When people wish to quit their apartment in July, they are looking for houses at the beginning of the year, and this means during winter. Even if you can't visit the backyard, visiting in winter has some benefits!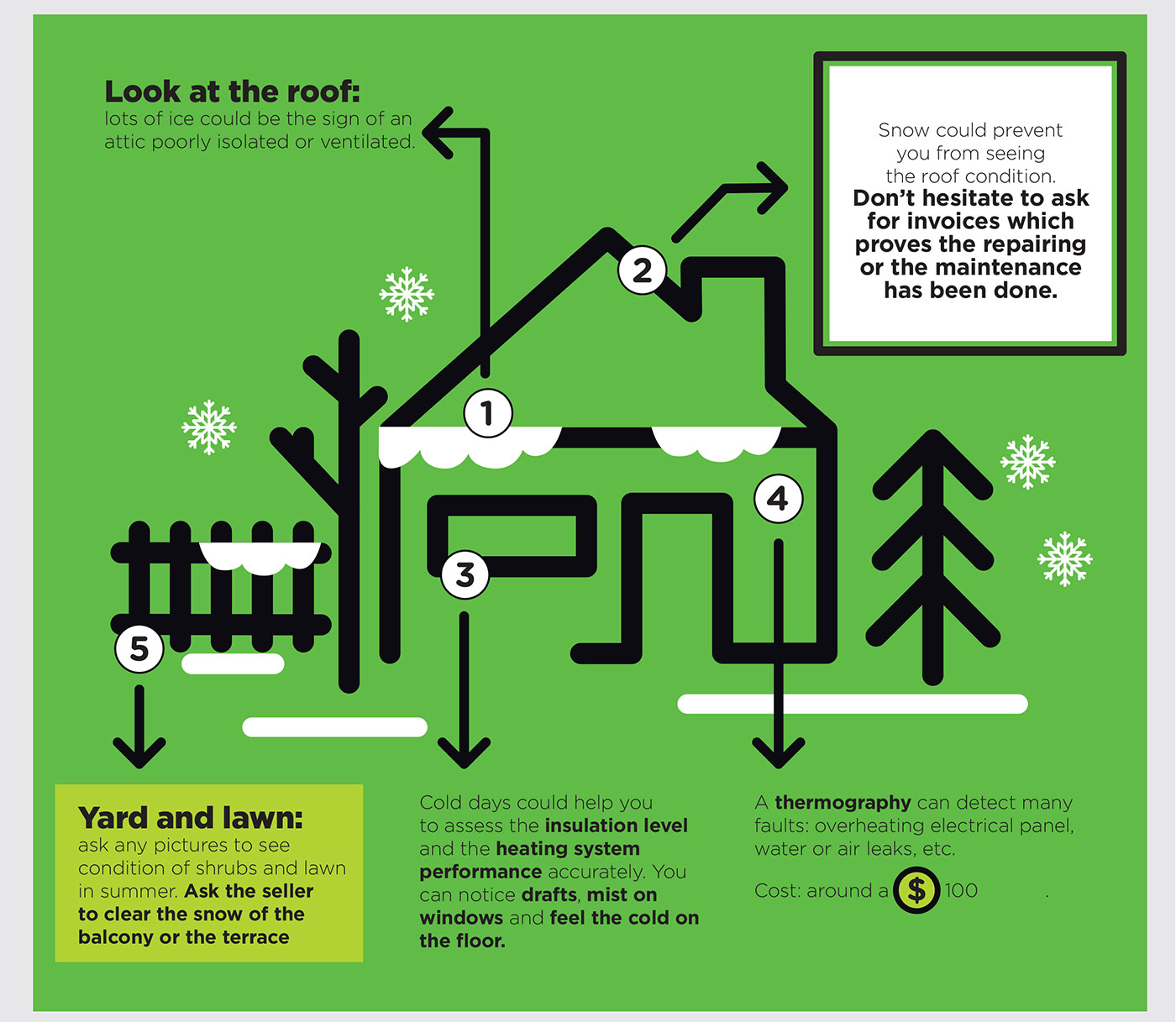 Perfect time to value comfort and isolation
Cold days of January, February and March help you to assess the insulation level and the heating system performance in an accurate way. You can notice drafts, mist on windows and feel the cold on the floor. Do not hesitate to open cabinet doors! If you feel fresh air, you could have identified an insulation problem.
Regarding the roof, seeing ice could be the sign of an attic poorly isolated or ventilated. You can see these problems to the naked eye and your inspector will surely write it down. However, it's only a visual inspection, and snow could prevent from seeing the roof condition. In this case, it is advisable to ask invoices, which proves that repairing has been done.
To get a clear idea of insulation, the best thing to do is thermography. This technology can detect many faults as overheating electrical panel, water or air leaks, high humidity on walls and water ingress in the roof or foundations. You already understood that it is a fantastic tool for the buyer!
For hundreds of dollars, thermography will help you learn on the coveted property. A tip for you: make sure you asked to a qualified specialist with good references.
Garden and Backyard: some pictures please!
Snow will probably stop you from seeing efficiently outdoor areas and landscaping. In an effort to address this problem, ask to the sellers many pictures to note condition of shrubs, lawn and rocks.
Visit the backyard, and if you'd like to see important parts as the balcony or the terrace, ask to clear of snow.
At all time, it is essential to read the declaration of the seller. This document is the only one that helps you if recourse is necessary (for example: a hidden defect because of the snow).
As you can see, it is possible to esteem the coveted property, no matter the time of the year. With these tips, you will know how to take advantage of your winter shopping!
Ask for pictures of the backyard and the garden.
Require a thermographic scan of the house.
Share
1
Tips to visit a home in winter
https://www.multi-prets.com/en/knowledge-center/tips-to-visit-a-home-in-winter/
en
https://www.multi-prets.com/en/
Multi-Prêts Mortgages
serviceclientelecdp@multi-prets.ca
1-800-798-7738
https://www.multi-prets.com/wp-content/themes/mph/images/logo_en.svg
https://www.facebook.com/Multipretshypotheques/
https://www.linkedin.com/company/multi-prets-hypotheques-mortgage-/
https://twitter.com/MultiPrets