The rate. Always the rate. Of course mortgage rates are an important factor to consider when buying a home; however, you also need to consider all the other conditions that govern your mortgage loan. What do you need to consider regarding the contractual terms related to your mortgage? Read this article and find out!
When people shop for the best mortgage possible, they often have one thing in mind: getting the best rate. But the best mortgage loan may not be the one that offers the best interest rate. The reason? So many other aspects to your mortgage's contractual terms must be taken into account. In other words, the best mortgage is one that meets all of your needs. 
We've put together an overview of the most regular terms that are included in a mortgage contract. As you review them, ask yourself the following question: is this term useful and does it apply to my situation?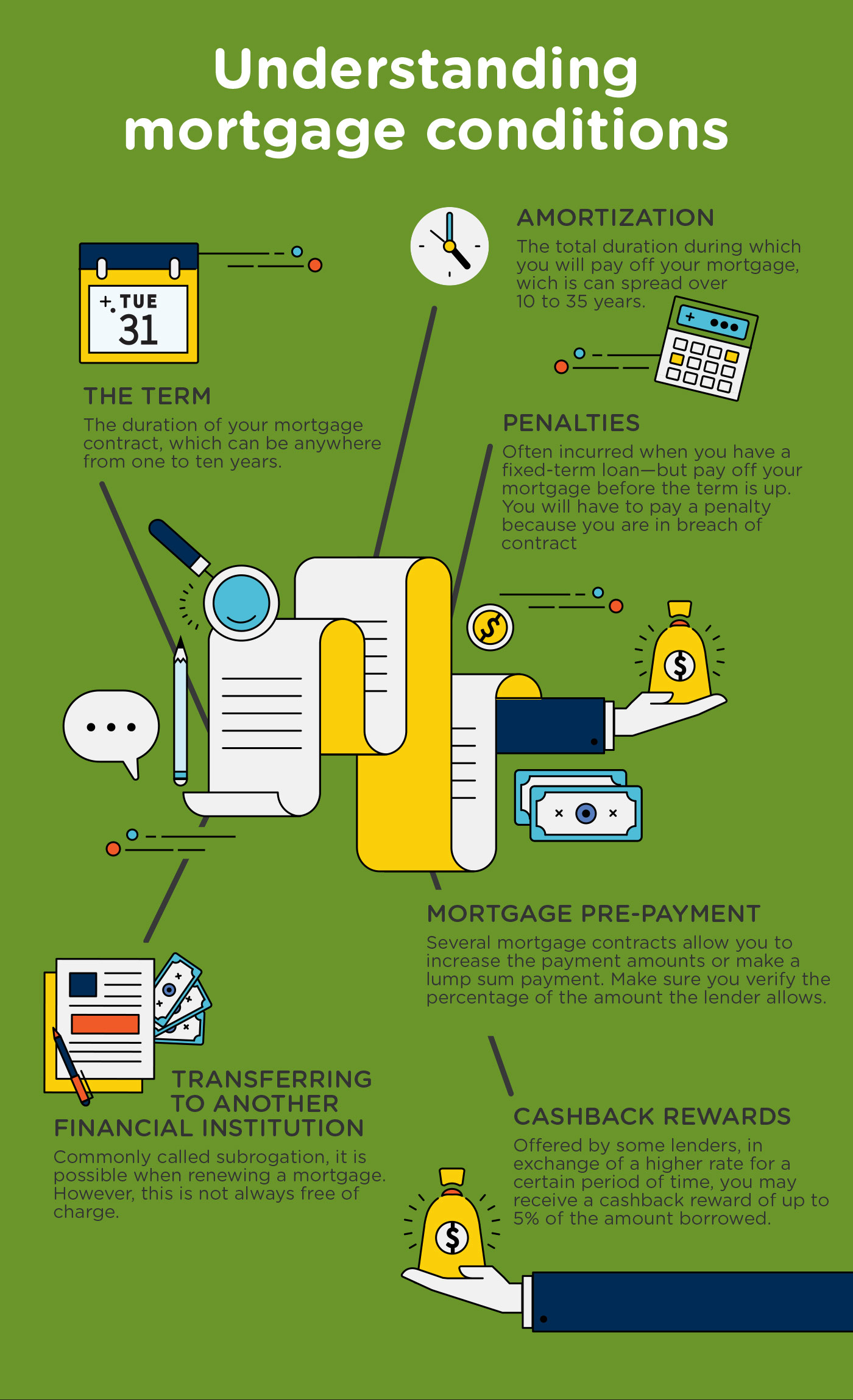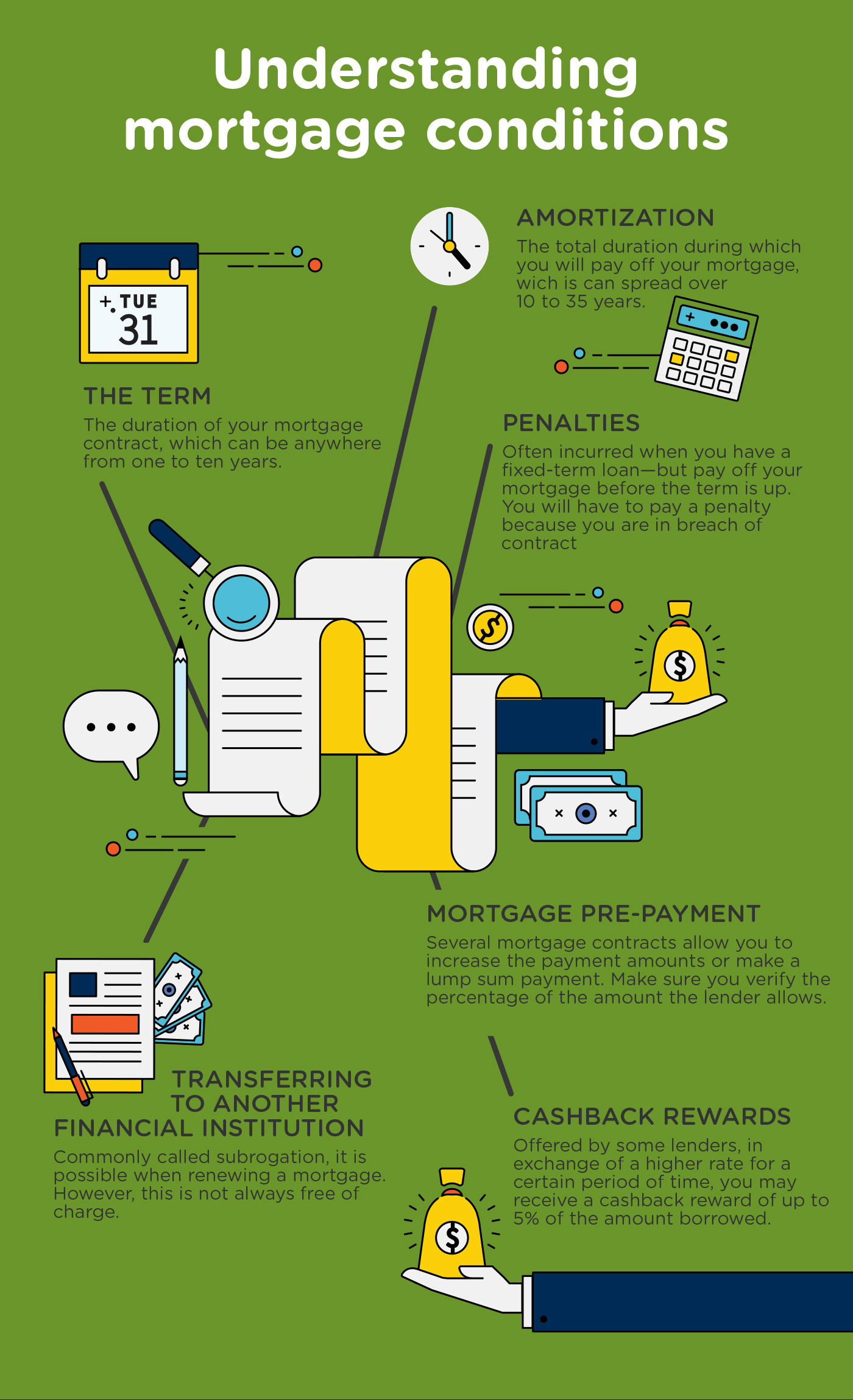 The most regular terms found in a mortgage contract
The term
The term is the duration of your mortgage contract, which can be anywhere from one to ten years. It is important to ask yourself why you would want a five-year mortgage contract, rather than a two- or three-year contract. Don't just look at the rate, but consider your projects for the future too.
Amortization
The amortization is the total duration during which you will pay off our mortgage. Your mortgage's amortization can spread over 10 to 35 years. Again, each case is different. To determine which amortization is right for you, think about your ability to handle the level and frequency of your payments as well as your mid- and long-term objectives. Do the math using our handy mortgage payment calculator. You may discover that shaving off one year from your mortgage's amortization could help you save big.
Penalties
Penalties are often incurred when you have a fixed-term loan—but pay off your mortgage before the term is up. For example, if you inherit some money, you may want to pay off your house, or if you separate, you decide to sell your house. In both of these cases, you will be forced to pay a penalty because you are in breach of contract!?  In addition, if the lender would have paid the notary, he could unfortunately take back the gift, if the contract is terminated. Note that the minimum penalty is three months.
Mortgage pre-payments
Do you want to pay off your mortgage faster? That's a great idea! Can you? How much higher payments are you authorized to make? Several mortgage contracts allow you to increase the payment amounts or make a lump sum payment. Make sure you verify the percentage of the amount the lender allows. 
Transferring to another financial institution 
Subrogation (the transfer of your mortgage's balance and amortization to another financial institution is possible when you renew your mortgage. However, the transfer does incur fees, so be sure to do your homework.
The opportunity to increase the amount of your loan without requiring the services of a notary
When you renew your mortgage, some lenders allow you to re-borrow the capital you have already reimbursed. 
Porting your mortgage
You can transfer your mortgage loan to another home. This may be a great option if interest rates are on the rise, because you get to keep your initial rate.
The opportunity to have someone else take responsibility for your mortgage
When you sell your home, you may be able to transfer your mortgage to the buyer—and keep the same terms and conditions. But be careful: you remain responsible for the loan! This option is ideal if you sell your home to someone who is trustworthy, such as a loved one. 
Line of credit
Your property and a good credit score may give you the opportunity to take advantage of a mortgage line of credit, depending on different criteria. Explore this option right away, even if a line of credit is not a solution that you are immediately drawn to. It can help you to avoid notary fees.
Cashback rewards 
This option is not offered by all lenders. Depending on your strategy, you may find it advantageous to pay a higher interest rate for a certain period of time in order to get a cashback reward of up to 5% of the amount you borrowed.
Payment terms
All financial institutions offer monthly and bi-monthly payments. But keep your guard up with offers of accelerated payments "every two weeks," which, in fact, are not far from helping you speed up your payments! Some lenders simply divide the annual amount that you would normally pay over the course of 26 two-week installments. The amount stays the same at the end of the day, which means means you are not paying off your mortgage any faster!
Your mortgage broker: An ally to weed through the details
Are you still concerned about your mortgage terms and conditions? Do you have questions regarding accelerated payments, penalties or mortgage pre-payments? Our mortgage brokers are here to help! Contact one of our brokers today to gain some clarity!
Key takeaways
Interest rates are not the only aspect you should consider when signing a mortgage contract.
There are many conditions you need to look at when shopping for a mortgage, including payment terms, pre-payments, amortizations, and penalties.
A mortgage broker is your go-to source for all the questions you may have regarding your mortgage loan.