by Multi-Prêts Mortgages
What you'll learn
Traditional sheathing
Other types of sheathing
Alternatives and innovations
Traditional sheathing
Flat roofs are very common in Quebec's urban centres. Most are covered in sheathing made of a mix of asphalt and gravel. It starts off with an overlap of many folds of bituminized felt, on which liquid asphalt is poured. A layer of gravel is then added to protect the roofing from the sun. If your asphalt and gravel sheathing is worn after a few years, you should avoid covering it with a new membrane. You're better off starting over to avoid humidity getting trapped between the old and the new sheathing. Most Quebec roofers would tell you the same.
Other types of sheathing
Elastomeric bitumen membranes
Elastomeric bitumen membranes are a more recent alternative, whose popularity is skyrocketing. Its elasticity offers a lighter and more resistant sheathing, which comes in handy during Quebec's rough winters. This bitumen's aggregate provides greater protection against tears, impacts and sunrays.
Synthetic sheathing
As for synthetic sheathing such as TPO, PVC and EPDM membranes, they all feature a single-layer application, which can prove appealing.
That being said, you're better off skipping more marginal sheathing methods (polymer, silicone, acrylic, liquid rubber, fibreglass, etc.). Flat roofs have certain specificities that require a great expertise and reliable workers. The aforementioned options are therefore much safer.
Covering your flat roof in white is highly recommended, if not mandatory, in certain neighbourhoods. While traditional tar roofing absorbs the sun and creates heat islands, white or clear gravel reflects the light and prevents overheating in large urban centres.
Before settling on a type of sheathing for your flat roof, you should understand the main differences. Consider the scale of the installation, the product's life cycle, the costs and the environmental impact. To help guide you, here are a few facts to keep in mind.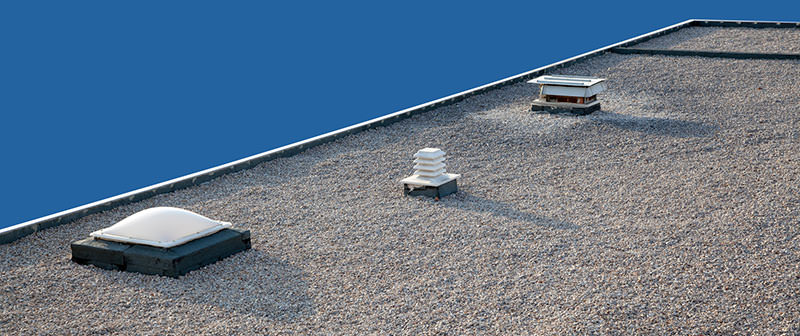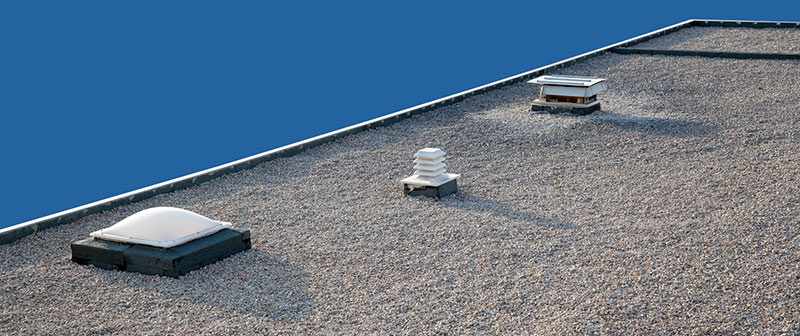 Asphalt and gravel sheathing
The installation of asphalt and gravel sheathing is very noisy, and produces toxic vapours. Seasonal maintenance will help extend the life cycle of asphalt and gravel sheathing to 20 or 25 years.
Elastomeric bitumen sheathing
As for elastomeric bitumen sheathing, its installation is simpler and quicker, but can be a fire hazard as it is installed with heat. You should ensure that your roofer and yourself have insurance coverage to that effect. Furthermore, this type of roofing is slightly more expensive than asphalt and gravel sheathing. However, it can last between 30 and 35 years, which is considerable! Finally, synthetic sheathing is inexpensive and eco-friendly, but its installation requires a large surface free of any obstacles, which can be a challenge with most residential roofing. It is also less resistant to extreme cold, and can last anywhere between 5 and 17 years.
As there is no system that can fit every building and every need, it is imperative that you deal with a roofing expert. Clearly, this is not a minor renovation. For all your large-scale projects, contact your Multi-Prêts broker to discuss financing possibilities.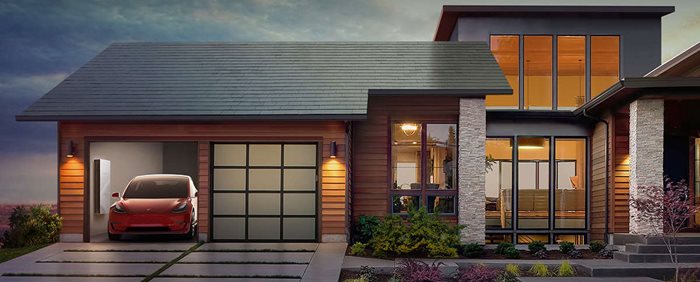 Alternatives and innovations
Green roofing
You could also opt for a green roof. These are made up of hardy plants, herbs or wildflowers. Its assets include rainwater retention, heat island resistance, and atmospheric pollution reduction. However, a green roof requires a building with a sufficiently strong structure, and can be very expensive.
Metallic roofing
Metallic roofing is another alternative to consider. Although its production can be harmful to the environment in the short-term, it can prove to be a wise decision in terms of sustainable development. Companies who install it offer a 50-year warranty, and claim its life cycle can extend to 150 years. Installing steel tiles provides an incredibly impermeable and resistant roof that is well suited to our weather, as well as being aesthetically appealing, which will increase your home's value. The downside is that this type of roofing can be extremely costly. You may want to think twice.
Tesla roofing
Finally, the eventual distribution of Tesla roofing has created quite a buzz, as it makes for an incredibly interesting innovation. Solar panels imbedded in the roofing could provide renewable energy for your residence. Although this is an incredibly appealing project in theory, it may not be very viable in Quebec. Our heavy snowfalls and short sunny periods in winter would prevent Tesla's solar roofing from truly being exploited to its full value. And yet, there's already a waiting list to purchase this product. If you're considering it, you should know that each square foot could cost you a pretty penny. Time will tell if your electricity savings offset the high price tag.
Key takeaways
If your asphalt and gravel sheathing is worn after a few years, you should avoid covering it with a new membrane.
Alternative roofing methods have specificities that require a great deal of expertise and reliable workers, which can add extra expenses.
As there is no system that can fit every building and every need, it is imperative that you deal with a roofing expert.